Rhodes Scholar improving healthcare systems in Mali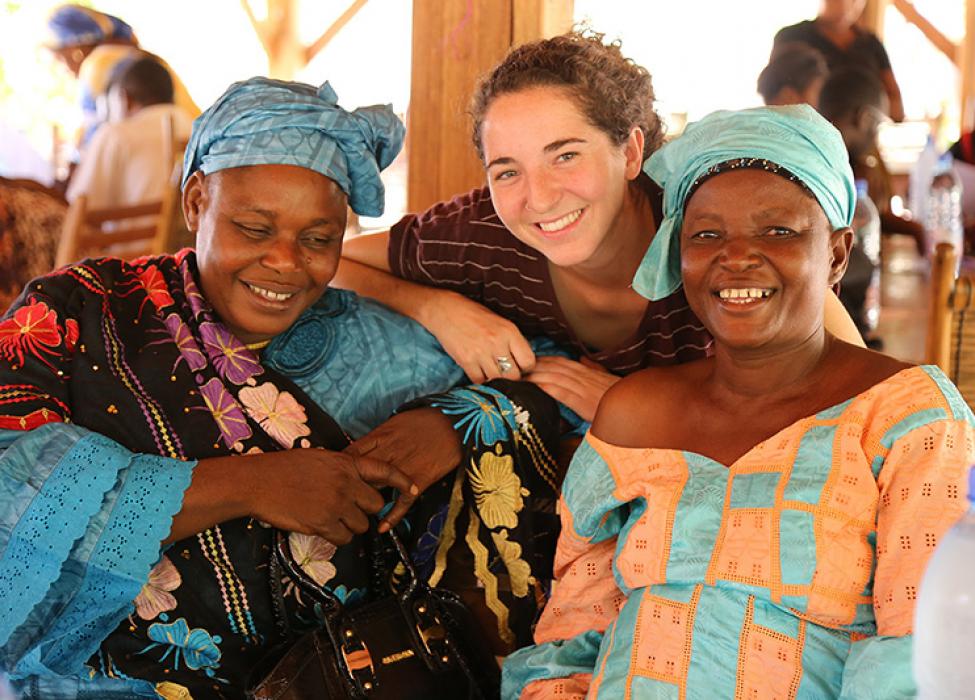 It was while completing an MSc in Global Health Science at the University of Oxford that Rhodes Scholar Caroline Whidden, who already held a BSc in Biochemistry and a BA in International Relations, took the decision to apply for the Blavatnik School of Government's Master of Public Policy.
"The MSc taught me how and why research and evidence generation were important for informing programme and policy," said Caroline. "I chose to complement this with the MPP in order to better understand the process of translating that evidence into policy change - and to understand health policy within the broader policy context."
Although the MPP's broad range of subjects and concepts was something Caroline really enjoyed, she initially found it to be overwhelming, as it sparked her interest across sectors and in broader concepts of social justice. It was the process of preparing for the Summer Project that brought Caroline to a place of conviction around her passion for global health equity. "Fighting for global health equity and access to health care creates an opportunity to - in fact requires you to - think about how health intersects with other sectors, like poverty, gender, environment and security. And it is not separate from, but fundamentally a part of, a larger fight for social justice and respect of human rights and dignity."
Caroline spent her Summer Project at the World Health Organization in Geneva, working on the sustainable financing of mental health services in low- and middle-income countries. "I went to WHO with a clear vision for what I wanted to achieve," Caroline told us. "I had a strong project outline and great mentorship. The project was such an interesting application of research and evidence to inform policy recommendations, in a field I care so deeply about and at the institution that sets global agendas in the space."
She is now based in Mali, working as Research Coordinator for Muso, a global health organisation designing, implementing, and testing proactive health care delivery systems, with a focus on ending child mortality.
"It was while I was at the Blavatnik School that I became aware of the organisation. I reached out to a great guest lecturer we had on health policy and universal health coverage, who has since become a trusted mentor. He listened to my interests in global public health, and introduced me to Muso who use research and evidence to effect policy change."
Muso has a three-step approach to health care: proactive case detection by community health workers, treatment in the home, and immediate referral to government-run rapid-access clinics for complex or severe cases. Fees are removed for the patient across the spectrum of care. Muso's delivery system designed to connect patients to care early in the course of their illness. Through rigorous scientific methodology, they measure everything they do, and work in close collaboration with the Malian Ministry of Health to effect larger systematic change.
It was their approach to global health equity and the results of their operational research that really struck a chord with Caroline, and inspired her to pursue a career with them. "They carried out a repeated cross-sectional survey in the community in which they had implemented the proactive health care system, and observed, over three years, a 10x difference in child mortality and a 10x increase in patient-provider encounters. These results intrigued me, and inspired me to apply for a fellowship at the organisation."
"I now hold a full-time position, and work on research protocols that build from these initial promising results. In partnership with the Malian Ministry of Health, we are launching a number of studies to evaluate the impact of proactive health care delivery systems. This way, we can help to inform evidence-based policy making for primary health care systems in Mali and beyond."
"These are questions I believe the world needs answering in order to improve global health policy and practice. I am so excited to build off my academic background and play my part in this way."  
November 2016