Challenges of Government Conference 2013: People Power Politics
Exploring the rise in citizens' expectations and popular activism, and the risks and limits for governments and societies.
Held on 9-10 December 2013
Over 240 people attended the third annual conference on the Challenges of Government. The focus was on "People Power Politics" – exploring the rising phenomenon of people power and how it is influencing the way governments respond to and engage with their citizens. Panel discussions brought both debate and consensus as experts shared their insights into mobilising people power.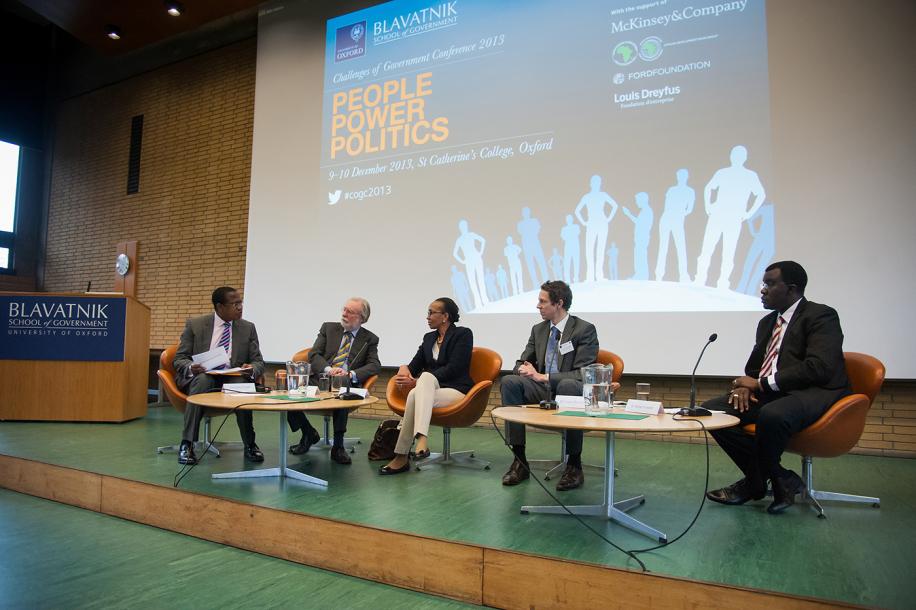 The new scale and speed of citizen mobilisation brings great opportunities for positive change but it needs to be organised, in traditional ways, if it is to bring about political change. The best sort of action is often values-driven and also needs to be part of a community, united in trust and connected by common ideas.
Implementation is a relational business – how relations are structured in a community, and how frontline deliverers are engaged, motivated, supported in taking forward important policy. Delivering effective outcomes does not arise through the design of special incentives so much as through the support, understanding and enrichment of particular relationships.
We are designing public policy in a data rich environment. Open data and big data bring powerful potential for reforming policy. They provide rich sources of information, and yet may – with current resources and capacities – be somewhat overhyped in their transformative power. Many of our systems that try to capture and interpret data are not working effectively yet. And of course there are fundamental questions about who controls the data, and who controls the controllers, that need to be addressed.
SPEAKERS AND SESSION CHAIRS
Al-Hassan Adam, Campaign Manager for Essential Services, Oxfam GB
Rushanara Ali, Member of Parliament for Bethnal Green and Bow, UK
Dr Soledad Arellano Schmidt, Vice Minister of Social Development, Chile
Professor Gwyn Bevan, Professor of Policy Analysis, London School of Economics
Professor Paul Collier, Professor of Economics and Public Policy, Blavatnik School of Government
Luiz Felipe d'Avila, Founder and President, Centro de Liderança Pública
Professor Monica Duffy Toft, Professor of Government and Public Policy, Blavatnik School of Government
Diana Farrell, Global Leader and Co-Founder, McKinsey Center for Government
Dr Varun Gauri, Senior Economist, World Bank Development Research Group; Co-Director of the World Development Report 2015
Professor Jack Goldstone, Professor of Public Policy, George Mason University
Lord Stephen Green of Hurstpierpoint, Minister of State for Trade and Investment, UK
Dr Thomas Hale, Postdoctoral Research Fellow, Blavatnik School of Government
Dr Michelle Harrison, Head of WPP Government Practice; CEO and Chair, Institute for Insight in the Public Services
Jeremy Heimans, Co-Founder and CEO, Purpose
Dan Hymowitz, Insight and Learning Manager, Tony Blair Africa Governance Initiative
President Atifete Jahjaga, President of Kosovo
Dr Donald Kaberuka, President, African Development Bank Group (AfDB)
Dr Daniel Kaufmann, President, Revenue Watch Institute
Professor Peter Kemp, Associate Director and Professor of Public Policy, Blavatnik School of Government
Sheila Khama Director, Extractive Resources Services, African Center for Economic Transformation
Dr Richard Konteh, State House Chief of Staff, Sierra Leone
Dr Clare Leaver, University Lecturer in Economics and Public Policy, Blavatnik School of Government
Nick Lovegrove, Senior Director, Albright Stonebridge Group
Lord Ken Macdonald of River Glaven QC, Warden of Wadham College, University of Oxford
Denis Mizne, Chief Executive Officer, Lemann Foundation
Geoff Mulgan, Chief Executive, Nesta
Professor John Naughton, Senior Research Fellow, Centre for Research in the Arts, Social Sciences and Humanities (CRASSH), University of Cambridge, and Emeritus Professor of the Public Understanding of Technology, the Open University
Karuna Nundy, Lawyer, Supreme Court of India
Corrado Passera, Former Minister of Economic Development, Infrastructure and Transport, Italy
Lauge Poulsen, Postdoctoral Research Fellow, University of Oxford
Valentina Quiroga, Executive Director, Espacio Público
Matías Reeves, Co-Founder, Educación 2020
Dr Adam Ritchie, Departmental Lecturer in Science and Public Policy, Blavatnik School of Government
Dr Tom Simpson, University Lecturer in Philosophy and Public Policy, Blavatnik School of Government
Dr Pieter Serneels, Reader (Associate Professor) in Economics, University of East Anglia
Professor Lionel Tarassenko, Professor of Electrical Engineering, University of Oxford
Dr Fraser Thompson, Senior Fellow, McKinsey Global Institute
Dr Maya Tudor, University Lecturer in Government and Public Policy, Blavatnik School of Government
Andrew Whitehouse, Deputy Director of Communications, McKinsey & Company
Jonathan Woetzel, Director, Greater China Office, McKinsey & Company
Professor Ngaire Woods, Dean, Blavatnik School of Government