"We need to keep paying attention": the MPP student helping Ukrainian refugees on the Polish border
When Russia began its invasion of Ukraine in February 2022, MPP student Victor Lal booked a flight to get to the Polish-Ukrainian border and help out however he could. 
Estimated reading time: 6 Minutes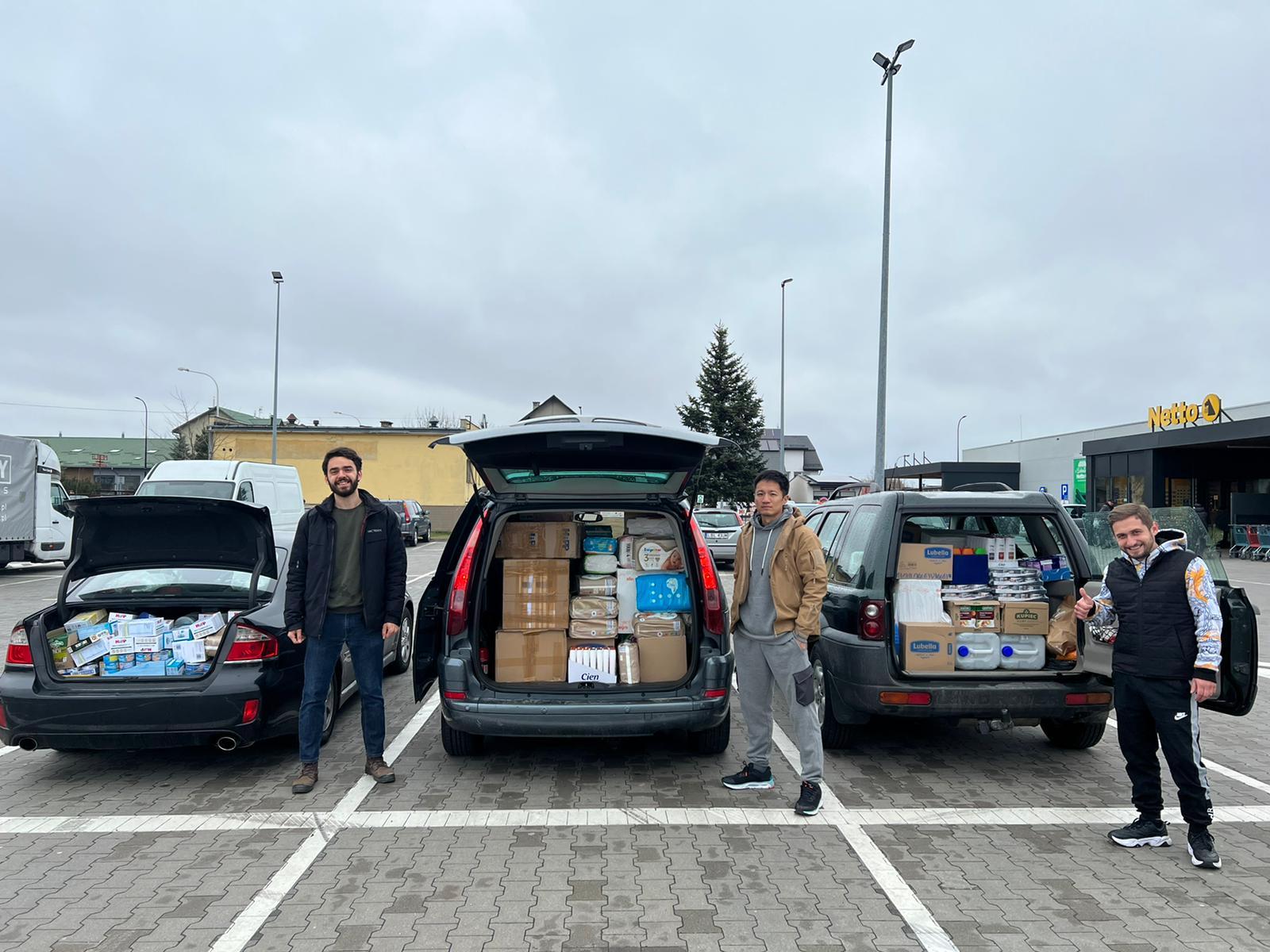 Victor founded an organisation, Hands on for Ukraine, which has since helped 160 Ukrainian refugees with over 1,000 nights of temporary accommodation. I sat down with Victor to discuss his experiences as well as his views on the next set of challenges to come from the crisis.
What led you to join the refugee crisis response effort along the Poland-Ukraine border?     
When it became clear that there was going to be a massive refugee crisis following the invasion, I knew I wanted to go and help in any way I could. I'm Polish-Canadian, speak fluent Polish and have family living in Poland close to the border with Ukraine. I also have a background in refugee work, having worked a lot with Syrian refugees in Canada, fundraising to sponsor them to come to Canada. I also have a personal connection to this work, as my family fled the communist regime in Poland and came to Canada.
So, the day that Russia invaded, I booked a flight to Poland. Since my family is close to the border, I decided to stay with them and then drive to the border to see what was happening.
When you arrived how did you begin to respond to the needs on both sides of the border?
The first stage of my work on the Polish border with Ukraine was exploratory. Every refugee crisis is different and the sources of information for what is needed are very informal. In the beginning you discover how to help based on who you know or meet in the area, or what is being said on social media. Just being at the border and talking to people was how we figured out that in that first stage of the conflict, humanitarian supplies were needed. That's when I started raising money to buy supplies and send them into Ukraine.
In such rapidly changing circumstances what sort of challenges did you face and how did you confront them?
These types of crises are very chaotic and figuring out where exactly to help is often the first challenge. When I showed up at the border for the first time, there were police, military and volunteers everywhere, along with hundreds of refugees, most of whom were women and children, all of them clearly exhausted. In the first week of a crisis, there is also lots of help being offered. There were so many local Polish volunteers who had dropped their normal jobs to support refugees. Polish families were rising to the challenge too and taking Ukrainians into their homes.
However, with the crisis getting worse week after week, the number of refugees needing support was continuing to increase. In parallel, support on the ground in Poland had understandably started to decrease – those that were able to house Ukrainian refugees had already done so, and most Polish volunteers had to get back to their regular jobs. In this sense, the main challenge that I faced throughout the crisis was that the needs of the refugees were changing so quickly – things that were not an issue in the first week rapidly became issues in subsequent weeks.
How did your organisation respond to this changing demand?
As we saw that accommodation was becoming a massive issue, our work pivoted quickly to help refugees find temporary accommodation in Poland and figure out their next steps. Many Ukrainians came across the border without a definite plan, and so needed an initial safe place to stay and someone to talk to so that they could understand their options. At that point in the crisis, Poland was filling up fast, and so the best option for many Ukrainians was to apply for a visa to the UK, Canada or US, or move onward to Western Europe. 
The majority of refugees entering Poland from Ukraine were women and children, making them especially vulnerable to the threat of human traffickers or other bad actors. We decided to focus on accommodation to make sure that they had a safe and trustworthy partner to rely on, minimising the risks they might have to take in an already dangerous journey fleeing war. Once they have secured temporary accommodation through us for a few days or weeks, they are much better equipped to move on, resettle in another part of the world, and begin the difficult process of finding work and schooling while waiting for the war to end. 
Now that you're back in Oxford for Trinity Term have you left behind colleagues that will be continuing this important work?
Yes, there are many local Polish and international volunteers who are still on the ground and who I'm coordinating with remotely to continue providing supplies and accommodation. Fortunately, arranging accommodation is relatively easy to do remotely – I can speak to refugees and volunteers via Telegram and then work with our hotel partners to make the right booking. The biggest constraint in continuing this work is funding. We've been able to raise over £30,000 so far but that money is running out. Our fundraising efforts are continuing, and we're hopeful more funding will come our way. 
Once you have finished your studies at the School will you return to continue the work?
I'm really keen to go back when I can. My current plan is to finish the MPP course and continue supporting the effort remotely now that I've established links with people on the ground. A key component of the MPP programme is the summer project which I hope to use to continue helping with the Ukrainian refugee crisis in some way. Whether that means returning to the Polish border or helping out with refugee resettlement, I'm not yet sure. 
From your experiences on the ground supporting the crisis and from now having returned to Oxford, what do you think will be the next challenge within the crisis? 
I think the next challenge is holding the attention of the global community. I really began to see this issue at the end of my time in Poland and Ukraine. It is difficult for people to remain engaged with such a tragedy from afar when they feel a sense of hopelessness about what they can do to help. We continue to see devastating headlines coming from Ukraine, yet Ukraine is no longer at the centre of our daily conversations in the same way that it was just a few weeks ago. I'm afraid that this trend will continue, and that Ukraine will join the ranks of other conflicts, such as those in Syria and Yemen, that we feel powerless to address. 
One of the dangers that comes with the global community paying less attention is a decrease in funding and in the number of volunteers. As a result, Ukrainian refugees who now need help more than ever won't be able to get it. I've seen this before in the previous refugee crises that I've worked on – the Syrian refugee crisis and the Palestinian refugee crisis were both examples of what happens when the world moves on. Ultimately this makes the crisis worse, as refugees are left on their own to try and restart their lives, all while their countries continue to be faced by war and political disorder. 
In your opinion, what can people do at the individual level to ensure that these refugees continue to receive the attention and therefore support they need as the war carries on?
First of all, people should continue reading the news. It's critical that people remain informed about what is happening in Ukraine, particularly as the war now looks to be heading into a long-term crisis. For those people living in countries that are receiving Ukrainian refugees, I would encourage them to get involved – volunteer to support Ukrainians as they try to resettle in your communities. Look into local organisations that are supporting refugees and offer to help. It could be as simple as helping someone to find a local doctor or dentist, or helping a Ukrainian mother register her daughter in school. I think these small actions are an incredible way for us to make a difference, and more importantly, develop relationships with Ukrainians that have had to leave everything behind. These relationships are ultimately the best way for us to continue to pay attention to the crisis. Headlines, over time, can be ignored. But as soon as you know someone personally who has been affected by the war, you're invested in finding a solution. That's the most important thing right now.  
Victor Lal is an MPP student from the class of 2021. Find out more about Victor's organisation Hands on for Ukraine.