Should we feel hopeful after COP26?
As extreme weather plagues his home region of British Columbia, MPP student Evan Guy reflects upon the successes and shortcomings of COP26
Estimated reading time: 5 Minutes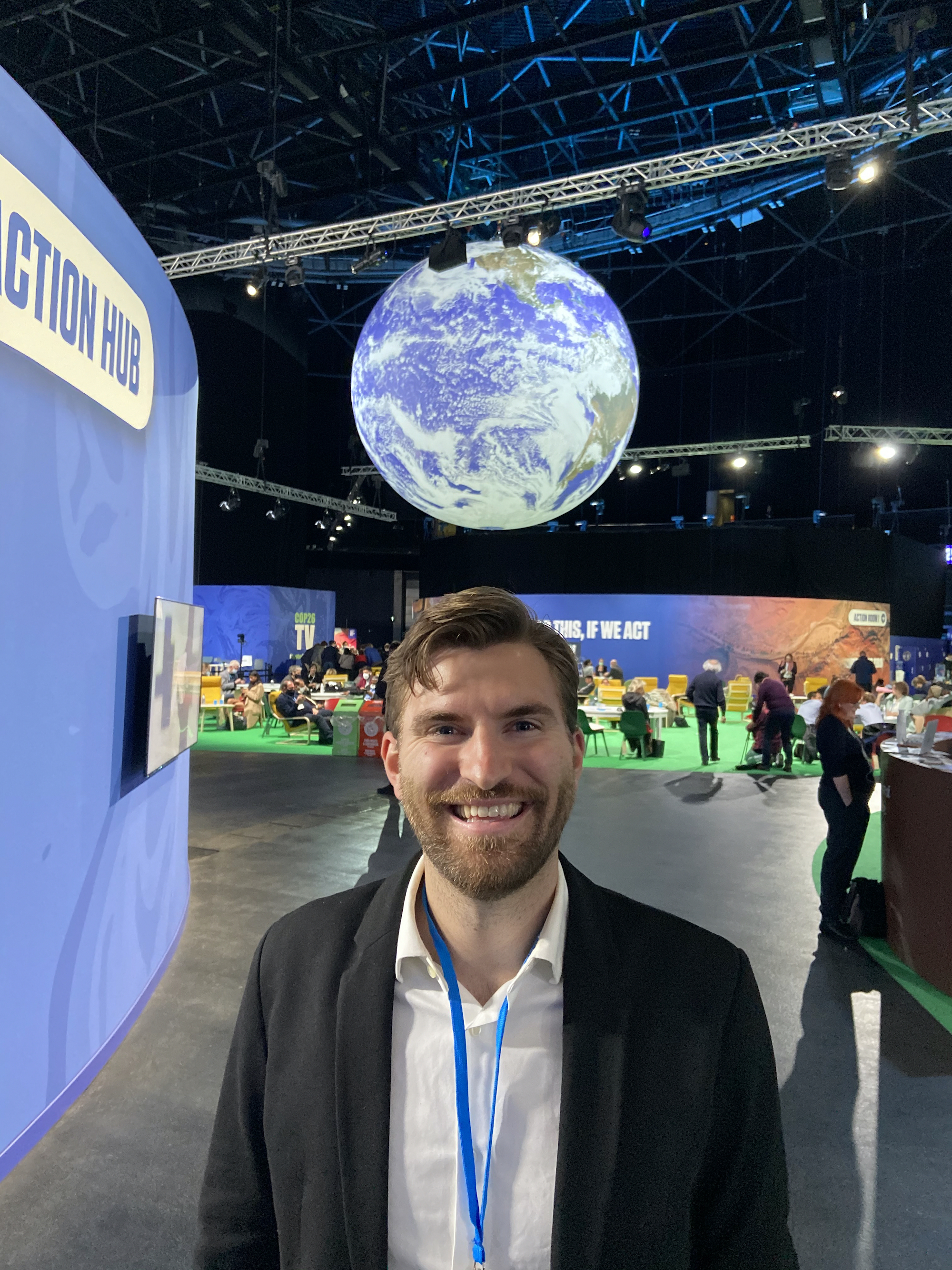 Promises made at COP26 in Glasgow will shape the world's battle against the climate crisis. MPP student Evan Guy considers the scope of these promises 
Last July, just two months before I moved to Oxford to start the MPP, my home province of British Columbia (BC), Canada was hit by an unprecedented heatwave. It was the deadliest weather event in Canadian history. The town of Lytton reached a record temperature of 49.6 degrees Celsius and was entirely burnt to the ground just days later. Heatwaves might sound highly unusual for a country known for its ice hockey, but such extreme weather events are becoming more regular as the climate changes.  The dire images from Lytton and across BC were front and centre in my mind on my train ride from Oxford to Glasgow, where I would be attending COP26. 
COP26
For two weeks, between 1–13 November, world leaders, negotiators, diplomats, CEOs, journalists, and activists gathered in their thousands in Glasgow, Scotland. This 26th Conference of the Parties (commonly referred to as COP) took place six years after the world came together to sign the historic Paris Agreement – a global agreement to keep global warming under 1.5 degrees Celsius. I had the opportunity to attend COP26 as an "observer", which gave me access to country-led pavilions, side events, and plenary sessions in the "blue zone". My badge was provided through the British Columbia Council for International Cooperation, and our work at the conference focused primarily on advocating for a just transition in Canada. We collaborated with other NGOs to push Canadian politicians and negotiators to commit to more ambitious emissions reductions and policies to support groups at risk of getting left behind in the energy transition: women, Indigenous communities, youth and oil and gas workers and their communities.
Upon first arriving at the Scottish Event Centre, conference-goers walk through the 'Action Hub.' Here, the centerpiece was a massive rotating model of the Earth suspended in mid-air – the world hanging in the balance. 
This past summer, the Intergovernmental Panel on Climate Change (IPCC), warned that the world was already experiencing unprecedented levels of warming that could cause irreversible outcomes—not just floods, heatwaves, and melting glaciers but sea level rise and other long-term impacts that will continue for centuries, regardless of what policymakers decide in the next few decades. If such reports weren't enough of a reminder of the stakes for negotiators, over a hundred thousand protesters hit the streets of Glasgow. These protests led by youth, Indigenous, and frontline communities took place throughout COP26 and served as a reminder to policymakers on the inside that they need to do better.  
So what were the outcomes?
After two weeks of tireless negotiations, representatives from almost 200 countries reached a final deal – the Glasgow Climate Pact. The Glasgow Climate Pact is the first-ever COP climate deal to explicitly plan to reduce coal, or any fossil fuel for that matter. The pact pushes for more rapid emissions reductions and pledges increased financing for developing countries' mitigation and adaptation efforts. It also set the rules for a range of issues left undecided in Paris and established stronger accountability mechanisms. 
COP26 concluded with an overall increase in global ambition to address climate change. Countries, such as India, made their first net-zero commitments. The two largest emitters, China and the US, agreed to collaborate in keeping warming below 2 degrees Celsius. Large coalitions of countries promised to cut methane emissions by a third and stop deforestation entirely by 2030. Many developed countries pledged to stop financing new coal-fired power plants and to stop subsidising international fossil fuel projects. Many financial institutions – with a combined $130 trillion in assets – promised to stop emitting carbon dioxide by 2050. Access to finance and technology for developing countries was ameliorated, but it was not improved to the levels promised or necessary to empower low-income countries' clean energy transition or to build resilience for vulnerable frontline communities.
Despite these announcements, many activists and observers have articulated their frustration at the lack of ambition, particularly from high-income countries. The national commitments made at COP26 will not put us on a path to stabilise the climate below 1.5 degrees Celisus. In fact, we are more likely on track for 2.4 – 2.7 degrees Celsius by the end of the century. That margin of 0.9 – 1.2 degrees Celsius makes a huge difference in the severity and frequency of climate impacts that we can expect. Moreover, success ultimately hinges on whether these commitments can be swiftly implemented through policies and financing in the coming years.
What now?
I write this blog two weeks after the conclusions of COP26 and just four months after the heatwave hit my home province. As I write, British Columbia is once again in the headlines. Our Premier has declared a state of emergency as unprecedented levels of rainfall have led to mass flooding and landslides across the province resulting in death, injury, billions of dollars in damages, and food and gas shortages. The impacts of climate change are already here, and yet we are so far from where we need to be. This reality is even more severe for communities in many parts of the developing world, especially small island nations. Progress can indeed be made at international conferences such as COP26. But it is not happening at the pace or scale that is needed. As Greta Thunberg put it, "small steps in the right direction... equals losing" when it comes to climate change. 
But change is not restricted to promises made by world leaders at international conferences. Businesses, NGOs, subnational and local governments, academic institutions, and communities can and are making decisions that will bring about wide scale change. These actors can push new policies and business models that can drastically reduce emissions and bolster resilience. Crucially, implementation does not happen in the negotiation rooms of COP – it happens locally in communities and cities around the world. The true success of COP26 hinges on how we mobilise to execute on climate action now that COP is done. Youth, Indigenous, and frontline communities are leading the way in this regard and we must all follow their example. 
We cannot expect a conference to put an end to the climate crisis. Yes, we of course need to continue pushing world leaders to act with the urgency the issue demands. But we also need to ensure that everything else, at all levels, is achieved. At COP26, I met dozens and dozens of people working to do exactly that. From a conversation with a researcher working to make sure issues of water security are adequately considered in local policy processes to listening to speeches from Indigenous activists pressuring companies to stop logging old-growth rainforests, I had countless moments of optimism at COP26. From these interactions, I left COP26 with a renewed energy and passion and I am excited to take the invaluable lessons from the MPP to play my part in catalysing change to tackle the climate crisis.