Current MPP and DPhil students
Oxford students condemn sentencing of Sondos Asem
Estimated reading time: 2 Minutes
Image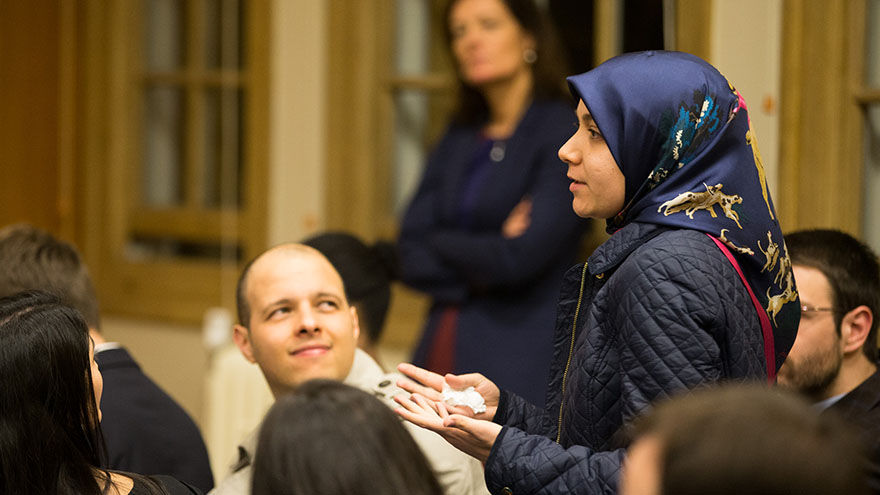 [caption id="attachment_7835" align="alignnone" width="880"]
Sondos Asem in the classroom at the Blavatnik School of Government[/caption]
We are 78 students from 51 countries and territories studying at the Blavatnik School of Government at the University of Oxford.
We write to express our shock at the death sentence handed to our classmate, Sondos Asem,
along with over 100 others in Egypt
and we are keen to affirm our solidarity with our friend and colleague.
First and foremost our thoughts are with Sondos and her family. Thankfully, she is safe currently reading for a Master of Public Policy at the Blavatnik School of Government.
We are appalled to hear that Sondos is being prosecuted for simply doing her job as a foreign media coordinator in the office of a democratically elected president.
Sondos is as passionate and committed to the principles of public service as any of us. Whether it is lending an ear to friends, debating philosophy, praying together, or playing football with classmates, Sondos is an invaluable part of our community. Like all of us, she came here to learn how to improve people's lives through good government.
In reaction to the ruling, Sondos was quick to speak of others who "are in a worse situation than me." That response is emblematic of the empathy, passion and regard for others that has driven Sondos in her professional and academic life.
We note that the judgment against her has yet to be reviewed. However, we are deeply saddened that these actions mean Sondos will be unable to return to Egypt or visit her family until she has been cleared of the charges.
We condemn this ruling and urge people and governments to speak up for the rule of law and against this injustice.