A note on a dear mentor
Estimated reading time: 3 Minutes
Image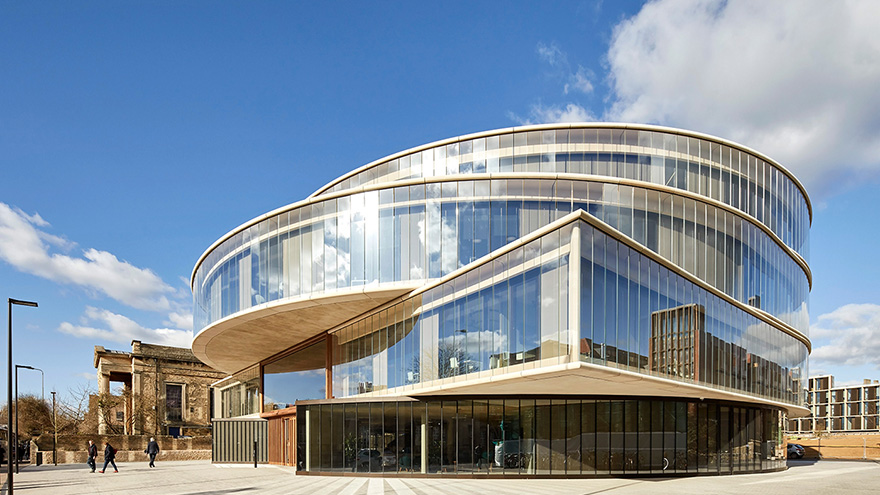 Anna Stewart
passed away on 6 October 2017. She was the CEO of UK engineering and construction giant
Laing O'Rourke
 (who have led the construction of Oxford's Blavatnik School of Government building), and less notably, served as my mentor at the School.
[caption id="attachment_8983" align="alignnone" width="880"]
The Blavatnik School of Government. Image: Hufton + Crow[/caption]
When I first met Ms. Stewart, a quick-witted and proud Scot, she insisted that I call her "Anna". She also insisted that I call her mobile directly whenever an issue arose. This seemed in line with her reputation as being an accessible and always-on-call manager in overseeing a global portfolio of construction megaprojects, but was certainly unexpected to hear as a graduate student. I came into the MPP after four years of experience with another engineering and construction firm, so I was particularly eager to engage with Anna and hear her views from the top. She did not disappoint.
All-embracing, deeply humble, and intellectually demanding, Anna was someone who brought about your best posture as much as she did your most coherent argument. I realised early on that despite the demands on her time, this busy chief executive was serious about being helpful. In reflecting on our conversations in Oxford and London, here are a few points that she emphasised.
As you might expect from a leader in the construction industry, her advice was practical and to-the-point.


When engaging with a large organisation, either as an advisor, client, or even prospective employee, don't be afraid to speak straight to the leadership. Always do your homework, but when you are prepared, find someone senior who can put your requests into action. A well-drafted proposal to the CEO might not get a response from the CEO, but it will surely find its way to someone well-suited to respond.


Hierarchy is inevitable in large organisations, but always maintain your humility. If you don't, when you fall – and you will fall – there will be no floor to catch you. Success, and your capacity to lead, is only as strong as the foundation of support you have earned beneath you.


Match your business to your values. This point was close to her heart, and elicited more animation and passion than anything else we discussed. Anna significantly reoriented Laing O'Rourke away from markets that could not support fair treatment of construction labor. Sub-standard safety procedures and policies restricting a worker's right to return to his or her home country, or see family on a regular basis, were abhorrent to her. Anna's leadership on this account amidst commercial pressure otherwise was brave, principled, and commendable.


And finally, after every meeting, a simple nudge of encouragement. "Don't give up," she would say.


 
 Her passing at 53 was of great surprise to me and to many others. She never let on how ill she was. An email ignored by anyone else, and I would have simply attributed it to a hectic schedule. But when an email last fall went unanswered, I understood something was seriously wrong. That was just not like her.
Today, I'm comforted by sharing the advice she gave me more broadly. And my biggest lesson? If someone experienced in your field takes an interest in you – and the Blavatnik School is full of mentors – honour them by engaging with them, challenging them, staying in touch. Know that they are rare.
And don't give up. A call for persistence, a call to live by one's values. Thank you Anna.
Cameron Bell is an alumnus of the Blavatnik School of Government (MPP Class of 2015). He is currently studying for a doctorate on energy infrastructure and economics of the Near East & Eastern Mediterranean at Panteion University, Athens. 
The mentorship scheme is part of the Professional Skills for Public Policy Careers programme within the MPP.