Susan Thomas
Blavatnik School of Government alumna (MPP 2015)
A mid summer night's nightmare
The second wave of COVID-19 in India and why nobody is surprised – a personal insight into India's policies on the pandemic.
Estimated reading time: 4 Minutes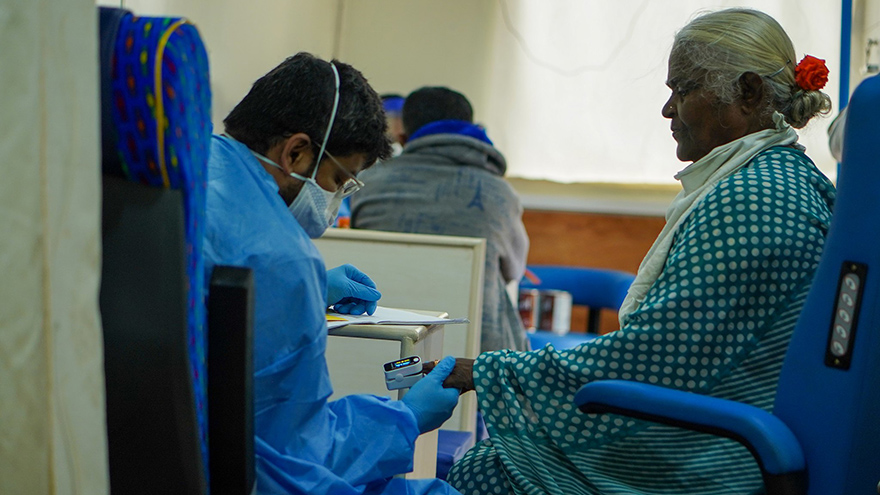 I am into the second month of self-imposed isolation at home to escape from the hell outside called the second wave of COVID-19 in India. Grappling with despair, grief and anxiety, I cut cable connection and stopped reading newspapers to avoid seeing the horrendous images of stacked dead bodies in hospital lobbies, corpses floating down the river and collapsed people battling for breath on the streets.
In March 2020, when the country went into a stoic fight against the virus, people stayed in, sewed masks from fabric scrap and doused themselves with sanitiser. The result was that India fared better than many European countries and the US as far as mortality rates were concerned. Theories floated around that Indians were hardy, their immunity was robust and there was much chest thumping that a virus from China could not do them harm. Cut to January 2021 and the Prime Minister declared at a virtual convocation event that India had emerged victorious in two battles-COVID-19 and the cricket series against Australia.
The situation today is grim. Yet nobody is surprised, not even Indians. It was as though India's positive track record last year was a fluke and the present flare-up is what the country is all about – poverty, poor governance, lack of access to basic infrastructure, mismanagement and the proverbial population problem. Public policy and health care experts are grappling to contain the present crisis and talking of multiple waves in the near future.
But so long as the country believes in the magic of jugaad, there seems to be little hope as I am writing this today. While other countries have given words like hygge and lykke to the world, India has given jugaad, referring to the last minute genius of innovation which may not always comply with safety protocols, Standard Operating Procedures and other statutory compliances. On the streets of North India run the jugaad, a motorised rickshaw, assembled in the side lanes of each hamlet and used extensively as public transport. Jugaad has been overly glorified in a resource-poor state (rather poverty of mismanagement) where there is a last-minute solution to every problem. Jugaad karenge or jugaad lagayenge is the usual refrain to tackle school admission, job interviews, train reservations, cricket tournament tickets and what have you. Even when all else fails – there is still jugaad, the ultimate panacea. This has led to an optimism bias in the country where every problem is dealt with by jugaad. But not the COVID-19 virus, as is evident now. Painfully so.

In March 2021, at the spring festival of Holi celebrated with colours and intense physical contact, people travelled, arranged celebrations and partied as though the pandemic was over. Super spreader events happened under the very nose of the state. Citizens walked with masks on their chins and refused to take the vaccines thinking the fight is over. There was no meaningful exercise to contact trace spreaders and quarantine neighbourhoods. India blissfully believed that they had beaten the virus and refused to learn from the best practices elsewhere. And to top it all, the jugaad attitude held ground here too. There was nothing to fear, jugaad was to get a hospital bed, an oxygen cylinder, a vaccine shot, a remdesivir vial and all other treatments should you test positive.
As the system began to collapse by mid-April and news of shortages began to trickle in, people started hoarding oxygen cylinders, which created an artificial scarcity. The front pages of newspapers started looking like the beginning of apocalypse. TPR (total positivity rate) were the topic on dinner tables. Steam inhaling was resorted to, there too jugaad with pipes attached to naked cooking cylinders that was open invitation to danger. This was in a police station that is supposed to be protecting people.
How bad the pandemic was raging became evident as the top officials of the country's bureaucracy who supposedly enjoyed power and access to wriggle out of the toughest situations, started falling victims. It was clear that the virus operated democratically and was a great leveler.

India's experience with the vaccination drive meanwhile was throwing up problems. The insistence on registering in the COWIN app was not working, which insisted on digital literacy from all its citizens. The app crashed when registrations were opened and panic was everywhere as news of vaccine shortages spread. The stray incidents of clotting after vaccination led to hesitancy among the citizenry in the initial months. Add to it the official averments that the fight against COVID was over and that we had won. Vast majority of people felt there was no need for vaccination. The narrative that the virus attacked the older cohort and those with co-morbidities made the government prioritise people above 45 years. Yet many below 45 applied jugaad and managed to get vaccinated through their contacts. Even when countries like the UK followed giving one shot to all, India with one of the youngest population cohorts in the world officially kept its youth out of the vaccine net.
Doctors and other experts warn of a third wave even as there is no respite from the second, I wish that Indians took a good look at themselves and believed less in
jugaad
and more in science and policy preparation, sticking to Standard Operating Procedures and focusing on improving compliance levels. An important challenge for governments in traditional societies like India is changing the fatalist mindsets with publicity campaigns and positive behavioural nudges so that compliance to rules is better. As
polio
vaccination campaign has shown, it is not impossible.
Susan Thomas is an alumna of the Blavatnik School of Government (MPP 2015). She has been working for the Government of India since 2001 as part of the Indian Revenue Service (IRS) and is presently the Director for the National Institute of Fashion Technology (NIFT) under the Ministry of Textiles where she looks at the intersection of culture, clothing and shaping of identities besides handling the administration. She has previously worked in areas of corporate taxation, tax tribunal advocacy and other areas of income tax. The views expressed in this blog post are purely personal.