Meeting a future king
Estimated reading time: 2 Minutes
Image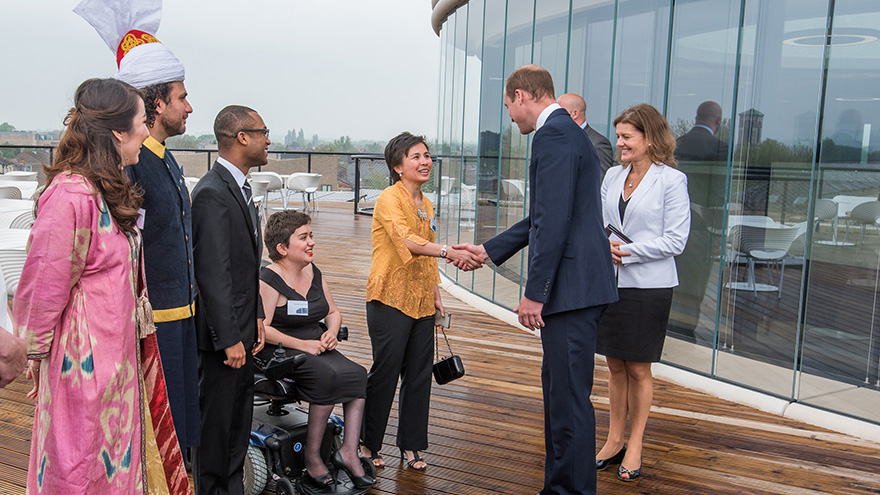 Weeks before the official opening day of our school, the Blavatnik School of Government, rumors were flying around that a royalty would be attending. Some of us started betting between the Queen, Prince Charles, and the Duke & Duchess of Cambridge.
[caption id="attachment_8227" align="alignnone" width="880"]
Alice and her fellow MPP students meet HRH the Duke of Cambridge. Photo by John Cairns[/caption]
I should have put real money on my pick because I would have won half. Prince William turned out to be the guest of honor, and as Mr. Len Blavatnik said, it was the right choice for the publicity. Mr. Blavatnik and many of us would have loved to see Kate and the kids, too, but Oxford was rainy as always so I don't blame them for not making the trip.
A few students, including myself, were lucky to get to meet the Prince during his tour of the building. Everything was quite meticulously choreographed to make sure we were prepared to convey the top things about the school: our diversity (117 students from 55 countries), award-winning state-of-the-art building, multidisciplinary programs, and our future plans in public service. And how do you greet him? "Your Royal Highness" on first reference, and "sir" after that, was the advice we got. But apparently he was known to be casual, so if your tongue gets twisted at "royal", don't stress. Can we just say "how are you?" We're not supposed to ask questions. He asks, we answer.
When we finally met him, it was clear that he did not get the same talking points we did. I was the first of five students who met him on the wet fourth-floor terrace of our building. I told him I worked for the BBC, and he joked, "I won't hold that against you."
Tabloid reporters
immediately came to me afterward to confirm they heard that right.
He went on to ask my classmate
Lindsay Lee
what she wanted to do after the MPP, and listened to her talking about making lives better for people with disabilities. Then classmate
Steeve Simbert
, who is from Haiti and a survivor of the 2010 earthquake, was asked about the current situation in the country. Classmate
Faiysal AliKhan
told him he would run for office in Pakistan, and William sounded keen to meet him again in a different function. He then asked classmate
Lolakhon Jabbarova
from Uzbekistan about her plans for the summer project.
The main event featured short speeches by Dean Ngaire Woods, two of our classmates,
Dinesh Kapur
and
Victoria Mwirichia
, Mr. Blavatnik, Oxford's Vice-Chancellor Professor Louise Richardson, and William himself.
After the speeches, lunch was served with plenty of wine. The chardonnay before tea time perhaps made the day equally eventful for those who were blasé about a royal sighting, as some thought it was ironic that a school of government was open by a future king. For many of us, though, it's just a hell of a story to tell our friends and families back home.
Alice Budisatrijo is studying for an MPP at BSG, on leave from her role as producer and reporter for BBC News in Jakarta, Indonesia. Read her profile or find her on Twitter.