Aliyyah Ahad and Meghan Benton
Humanitarian innovation: Lasting solutions to big challenges?
Estimated reading time: 4 Minutes
Image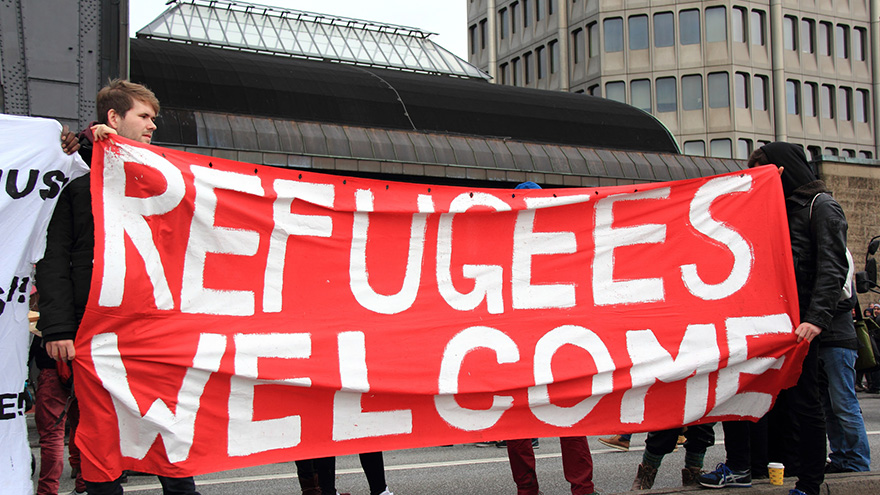 Unprecedented numbers of migrants made their way across the Mediterranean in 2015. While policymakers argue about how best to respond, a bottom up social movement has flourished. From the
Refugees Welcome
website, dubbed Airbnb for refugees, to
coding schools
for refugees, innovators are using technology to ease pressures on services.
[caption id="attachment_8023" align="alignnone" width="880"]
Demonstration in Hamburg, Germany the day after the attacks in Paris. Photo by
Rasande Tyskar on Flickr.
[/caption]
Supporting refugees extends beyond their immediate needs on arrival. In countries such as Sweden and Germany – those welcoming the largest numbers of refugees – refugees have historically
faced difficulties
finding work, and their children have done less well at school.
Meeting refugees' basic needs is the most pressing concern. But could humanitarian innovation also help create a foundation for long term success for these vulnerable - yet often plucky and talented - new arrivals?
Technology and the refugee crisis
One of the most surprising features of this refugee crisis, for many people, has been the revelation that refugees depend overwhelmingly on smartphones. Technology is a basic need for people on the move. Migrants use smartphones to plan routes, avoid unscrupulous smugglers, and reunite with loved ones. In many instances technology has been a literal lifeline, allowing distressed migrants to send precise GPS coordinates to coast guards.
With technology shaping movements, it's no surprise that it has also transformed the response. Numerous apps have been developed to help new arrivals access services, find work, obtain residency permits, open bank accounts, and access training. For example,
"Welcome to Dresden"
provides information and advice in five languages. A crowdfunded
Refugee Aid App
, to provide support to people on the move, will help people find homes, work, community and support.
The importance of these tools goes beyond helping newcomers settle in. The
Refugees Welcome
programme, which matches new arrivals with people with spare rooms, was set up partly to appease tensions in communities. In the first six months of 2015, Germany witnessed 150 arson or other attacks on refugee shelters. And with a Syrian national potentially being implicated in the recent
Paris attacks
, these tensions are likely to increase.
The next phase of humanitarian innovation
Although these initiatives are promising, they are small-scale and uncoordinated. To help consolidate and scale efforts, the tech website TechCrunch's editor, Mike Butcher, set up
Techfugees
. Beginning with a hackathon and conference in London, Techfugees has now spread across Europe, and to Australia and the US.
It's important that these efforts complement broader policy responses at European, national and local level. These include increased funding for areas facing concentrated challenges and concerted efforts to ensure that public services are attuned to the needs of diverse populations.
As such, there are a few areas where humanitarian innovation could be especially useful:
1. Better understanding the problem.
Migration data is notoriously unreliable and out of date, especially at local level. This can make it difficult for local governments to organise services, allocate budgets, or access funding. Could social media and app data plug the gap? For instance, the app
Migreat
– which links migrants to information about visas and social networks - has city-level data by nationality.
2. Bridging gaps.
One of the priorities for Techfugees is helping refugees meet their charging and connection needs on the road or in camps. Another is to help people denied access to services because of their immigration status. The
State of Grace
movement seeks to address one aspect of this: stateless children excluded from vital benefits because 'stateless' in not listed in most computer systems.
3. Experimenting with new ways to respond.
Public services aren't generally designed around the needs of refugees. Highly educated refugees are often un- or underemployed because they can't get their qualifications recognised or plug gaps in their education. Others lose their footing on the labour market waiting for their immigration status or somewhere to live or learning the language. New solutions to these challenges are sorely needed. Open challenge prizes, which offer money for innovative solutions, could be one approach. For instance, the Swedish innovation agency,
Vinnova
, is offering over 1 million euros for new ideas to integrate refugees.
4. Unlocking the resources of communities.
The refugee crisis follows decades of rising public anxiety about immigration. The example of Refugees Welcome shows that involving people in delivering services can improve community attitudes to receiving newcomers.
Next steps
Humanitarian innovation is an exciting new field. There's a lot that policymakers could do to nurture this emerging area, including offering prizes for solving refugee integration challenges, or working with service designers to understand the barriers newcomers face navigating the maze of services, like the Norwegian government's
work with Livework Studio
.
But while innovation is important, it shouldn't detract from the fact that most countries haven't sorted out the basic stuff: ensuring that people can get foreign qualifications recognised and access training targeted to their needs; making sure that people with limited literacy or language proficiency can access support; and improving how different services work together to address the needs of migrants with multiple and complex needs.
This piece is co-authored by Aliyyah Ahad (MPP student at the Blavatnik School of Government) and Meghan Benton (Senior Researcher, Government Innovation at Nesta) and was originally published by the European Commission's Social Innovation Europe.