A day in the life of an MPP student: Agnes Nakirya
Estimated reading time: 8 Minutes
Image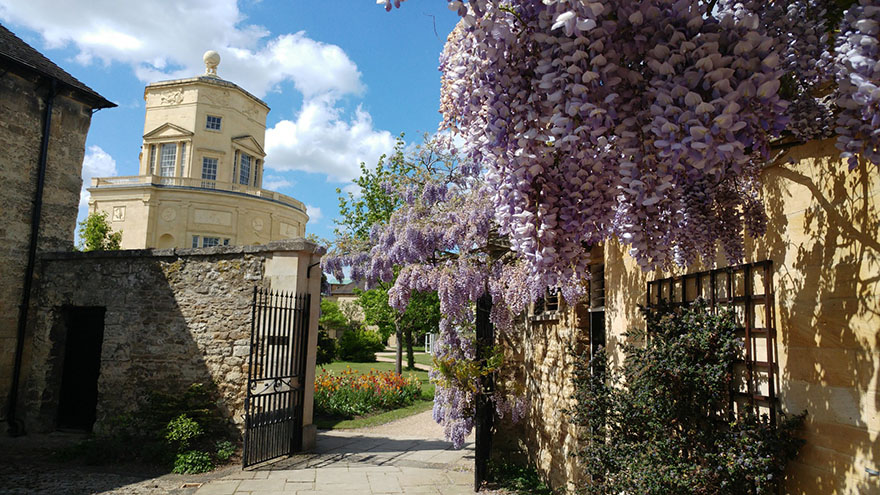 You can see what The MPP Year looks like in our infographic, but what does a typical day entail for an MPP student? Agnes Nakirya describes her activities from dawn to dusk...
[caption id="attachment_8921" align="alignnone" width="880"]
Agnes's college is Green Templeton College. Source: Oxford Graduate Studies on Medium.[/caption]
My alarm goes off…
My alarm goes off at 6:30am but that's mostly to prepare me to wake up! I give myself another half hour before I am fully awake and ready to get out of bed. I then rush for a quick shower, make myself a healthy bowl of oats porridge or eggs and a hot cup of African tea (it has got be more milk than water!). I live about 3 minutes away from the Blavatnik School of Government (two or less if you make a run for it!). My classes start at 9:00am on most days so I have time to organise myself before class starts and respond to any emails or complete other administrative tasks before class begins.
My typical day involves…
My typical day involves about three hours of class, while the rest of the day is dedicated to more practical and applied aspects of the course. This term, I have
three core modules
including Politics of Policy Making, Evidence and Public Policy, and Law and Public Policy. I will also focus on three Applied Policy modules spread across the term including Negotiations, Communications and Behavioural Science. Depending on the day, I might have one class in the morning and another in the afternoon.
A central part of the MPP is deepening our practical skills and enabling us to apply the knowledge and skills we acquire from our classes to real-life policy challenges facing policymakers. My day will sometimes include attending a case study discussion drawn from the experience of a specific country. We also have the opportunity to meet policy practitioners with a wealth of expertise and knowledge who visit the School and lead interactive policy discussions with the students. These include former and current heads of government, ministers, and government advisors, among others. These conversations are part of the normal class schedule or arranged as an exciting end to the day.
The School and the University emphasise individual growth and provide opportunities to support this outside of the larger class through seminars. Often, my day will involve taking part in the seminars, usually in smaller groups of six to seven students, to discuss the topics for the week and follow up on any aspects that need refining and further explanation.
I usually finish at about 5:00pm or sometimes a little later if there is a guest speaker scheduled for the end of the day.
I joined the Master of Public Policy because…
My journey to Oxford and the MPP started with my desire to break down walls, both real and perceived, that often stand between society and the most marginalised sections within it. I believed that Law could be used a tool to break down these walls. This drive informed my choice of studies and employment. In the past five years I've been working in the charity sector to reform law and policy, firstly with Platform for Labour Action and then with African Prisons Project.
Both organisations gave me the invaluable opportunity to witness vulnerability and marginalisation first hand. I learned that NGOs' role in policy reform is important but can often be limited, and I wanted to learn more about public policy to contribute to influencing policymaking and to developing sustainable solutions. The Blavatnik School's MPP with its 
multi-disciplinary approach and diverse student body
 provided an opportunity to broaden my areas of focus to national education, health service delivery, economic development and agricultural modernisation so that I will be better placed to actively contribute to public sector reform in the future.
The most memorable moment so far has been…
When I received the offer of a place on the programme from the Blavatnik School of Government, I was still at work when the email came in. I was speechless with immense joy. I bolted out of the office building, but not before grabbing a friend of mine who had provided such invaluable support especially in the last days before I submitted my application. I kept repeating "I got into Oxford!" over and over again. Once I calmed down, I started to call family and friends. It's a day I will always remember with a huge leap in my heart and a wide smile on my face. The offer of a Felix scholarship from the University and the School's support left me so overwhelmed and humbled that I barely spoke. I just marvelled silently at the door of opportunity that had been opened before me.
[caption id="" align="aligncenter" width="500"]
Agnes on her matriculation day.[/caption]
My experience of the MPP at Oxford so far…
What has been and continues to be the most profound experience is the opportunity to break out of my comfort zone. I have been challenged to re-think what I thought I knew, and to understand what has contributed to my way of thinking. Coming from the NGO and legal sector, my thoughts on policy formulation were largely influenced by human rights law. The MPP has given me the opportunity to learn about other frameworks that influence public policy as well as appreciate the intense policy challenges facing policy makers.
The worst moment has been…
The second week in Oxford was probably the most challenging. I say
challenging
and not the
worst
because in it lay some of the most valuable lessons. By the second week, I was struggling to hold onto the immeasurable joy I felt on the day I received the offer.
Having worked for over five years, I had gained the experience, knowledge and skills to be able to do my job with great confidence. When I started the MPP, I suddenly found myself on unfamiliar ground. I felt as if all my experience counted for nothing and I started to doubt myself. I was confronted with long reading lists and materials and, having graduated eight years ago, I wondered whether, after so much time away from the classroom, I would be able to adapt to the intense academic environment. Would I be able to write, analyse and critically appraise issues the "Oxford way"? In addition, all my classmates seemed to be progressing with such assurance and intelligence, that my own confidence started to fade away.
I decided to examine and confront these feelings. I realised that I was fighting against the very reasons that led me to apply to Oxford. To be challenged. To learn. To grow. To get out of my comfort zone and what I thought I knew. I realised that the discomfort I felt was borne out of being outside familiar ground. It was time to be comfortable with the uncomfortable. So, I resolved to embrace the discomfort and open myself to expanding my horizons. I also found refuge in my faith, my family and friend backs home, and the invaluable support of peers within the cohort, the lecturers, my academic supervisor and seminar leaders.
The best thing about living in Oxford is…
Oxford
is the centre of academic excellence in the world. At first, I thought it would be daunting. I was filled with trepidation and worry, but was humbled and pleased by the welcome and help I received. I am still getting used to being part of such a historic institution. I still find it unbelievable that Oxford University Press is right across the road from the Blavatnik School, because most of the academic books that I came across during my school years were created there. Oxford is also home to some of the world's
most magnificent libraries
which house manuscripts that are hundreds of years old. The city's architecture is beautiful - each time I visit one of the colleges or walk around Oxford, I am in awe of the unique buildings and their rich history. I marvel at the sheer size and beauty of
Christ Church College
, though being part of
Green Templeton College (GTC)
, the graduate community and support available makes it a great home for students.
The city offers immense and exciting opportunities both inside and outside of the classroom. It can be tempting at the start to stretch yourself too thin because it constantly feels like you are missing out on something. I quickly realised that I needed to pace myself. With a slightly better understanding of the city and Oxford's academic environment, I look forward to engaging more in activities beyond the classroom and the Blavatnik School and see more of the city this term.
In the evening…
My evenings are often very quiet and don't necessarily follow a specific pattern. Depending on the day, I might attend an event with one of the guest speakers at the School or the university. Coming from a country where religion plays a huge role in influencing laws and policy, I particularly enjoyed the conversation with Baroness Warsi who spoke about faith and religion, not as an instrument of oppression but as a tool that provided the much-needed personal check in her political career. Most evenings though, you will find me trying to catch up on my readings for the week and preparing for my classes for the next day. I might also take a walk around the city or meet friends for a coffee. I love Patisserie Valerie for their amazing cakes. I like to get a nice treat specially to celebrate after submitting an assignment at the end of the week.  I have also been planning to start going to the gym since I got to Oxford but I still haven't started despite my college, Green Templeton, having one of the best gyms.
My advice for anyone considering the MPP is…
Cast aside your fears, don't be afraid to push yourself outside your comfort zone and come with your mind open and accepting of differences. Not everything will be familiar to you, you will accept some ideas, you will reject others, but you will learn to listen to every opinion and be heard too. We live in a globalised yet diversified world. Make yourself heard, politely, but also allow yourself to hear others.
In the future… 
To date, I have had the opportunity to apply my skills to civil society work in Uganda's Justice, Law & Order Sector (JLOS). I have primarily been involved in advocacy and lobbying to change government policy. Completing the MPP will enable me to move from critiquing policy from the outside to shaping it from the inside. Following my return to Uganda, I would like to contribute to creatively shape policy solutions for Uganda and Africa's development. I could do this in a public role as policy researcher, designer, advisor and analyst.
Agnes Nakyria is currently studying for a Master of Public Policy at the Blavatnik School of Government. She is an academic lawyer and human rights advocate.