Dancing Policy Into Practice
Estimated reading time: 3 Minutes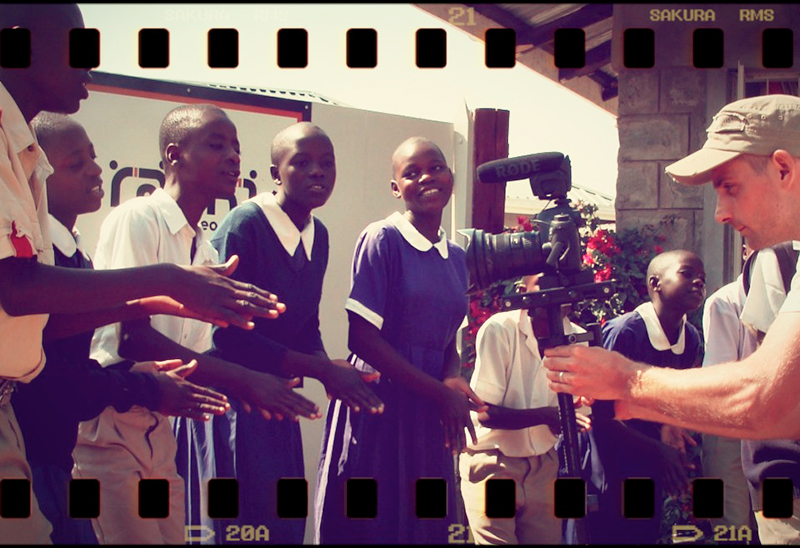 While volunteering for a local NGO in Kenya, called the
Rafiki Wa Maendeleo Trust
, I wanted to combat diarrhoeal diseases in the community. In theory, a lot can be done at little cost. There are many simple ideas on how to increase the water supply and cheap solutions to making and keeping water clean. Basic pit latrines are already widely available in the area, which is a great achievement. And there is one crucially important thing that is hard to put into practice as it sounds easy in theory: maintaing good hygiene practices such as washing hands.
On visiting a school, we realised how many children did not know how to wash their hands properly. In fact, I don't need to fly all the way to Kenya to find out that healthy hand washing practice are rare to find among children. My own nephew back home utterly shuns hand washing and tries to find every possible excuse to avoid touching soap - in spite of my regular mantras.
Hence, increasing soap and water supplies in the communities seemed fairly easy compared with the aim of changing behaviours. This challenge kept my mind occupied throughout and it became a major recurrent topic in our team. Until I suddenly remembered a "hand rub dance" that was recently presented at the
International Convention of Infection Control and Prevention in Geneva
: Some brilliant minds filmed doctors and nurses from various hospitals dancing to a catchy tune with an educative choreography that would illustrate the key steps of proper hand washing.
"Dancing! That must be the solution!" - I said to myself remembering how impressed I was when I recently saw a group of Kenyans singing and dancing in a circle. It was so powerful, creating a common feeling of trust, friendship, and community. Dancing is such an integral part of their culture that I thought it could be a powerful vessel to convey health messages. When I presented this idea to my colleagues at Rafiki and a group of Swiss Volunteers (the Solferino Group) they were immediately excited about it and within just one day, we had written the lyrics in Swahili, set up a first concept for the choreography, and found a group of seventh grade pupils from a nearby school who agreed to dance the newly invented dance so that we could film it.
Initially they seemed shy about it, but when younger children suddenly appeared out of nowhere and imitated their dance with curiosity, they started to understand the possible impact of this. The following days they would come to practice the dance for hours on end, striving for a great performance. We were fortunate enough to have had Renaud Decollogny with us, a Swiss firefighter and talented hobby filmer, who happily filmed the entire endeavour at various locations, including the school of our young performers. Once at the School, we found ourselves surrounded by dozens of children who ended up joining us for the dance. It was breathtaking how fast they caught up on the song and the movements - and how much they enjoyed it.
The next morning, when Renaud took a walk through the village he was greeted by young children dancing our dance for him. They remembered it after having seen it only once! And even some of our staff noticed still weeks later, that they now washed their hands more consciously - always thinking of the song.
The lyrics were written in Swahili to ensure that everyone in the area could understand it and it is now on
youtube
. It could go viral across all Swahili-speaking areas. Admittedly, many people will probably never see the dance because they do not have access to a computer. But the song will also be made available in MP3 and the lyrics could spread offline through teachers and aid workers. Often, local schools run competitions against each other where children present theatre plays or dances. Why not challenge them to invent their own hand wash choreography? It could be a formidable vessel to transmit health messages.
Admittedly, it will be difficult to prove the effectiveness of such an intervention for a variety of reasons. But even in the absence of hard and fast evidence, many in the area I worked believe we can only transform habits within households by influencing children. The dance seems to be a feasible strategy and is fun to do. And it clearly appeared to promote the idea of hand washing, especially when it is complemented by teachings, public signs, and an increased provision of water and soap.
What appears to make dancing so powerful for spreading public health measures, is that it is social by design, to put it in the words of Mark Zuckerberg. And it blends public health measures into traditions that are already an integral part of every child's life. Atul Gawande said that
"People talking to people is still the way that norms and standards change."
- the same applies to singing and dancing, so it seems.