Creating a better future for women and girls: MPP alumnus interviews Ib Petersen
Estimated reading time: 9 Minutes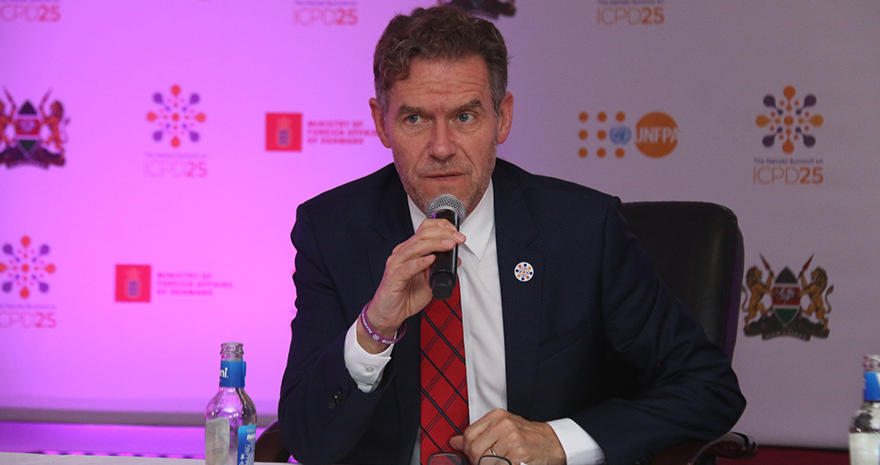 On 24 June 2020, Ib Petersen was appointed to serve as the Assistant Secretary-General, Deputy Executive Director, Management of the United Nations Population Fund (UNFPA). Mr Petersen brings over 30 years' experience serving the Danish government in bilateral and multilateral affairs and development. He has served as Director for the Department of Migration, Conflict and Stabilization of the Danish Ministry of Foreign Affairs, and for six years led the Danish International Development Agency (DANIDA).
As the Ambassador and Permanent Representative of Denmark to the United Nations (2013–2018), Mr Petersen served on the Executive Boards of the United Nations Development Programme, including as President of the Joint UNDP/UNFPA/UNOPS Executive Board in 2017, where he negotiated the new four-year strategic plan for UNFPA. Most recently, he served as the Special Envoy and Co-Chair of the International Steering Committee for the International Conference on Population and Development (ICPD) 25 in Nairobi in November 2019.
The UN is currently commemorating its 75th anniversary at the 75th Session of the UN General Assembly. At a time when one of the key goals for Member States is SDG 5 (ensuring the rights of women and girls around the world), I had the opportunity to speak with Mr Petersen about the UNFPA's work in this area – from collaborating across the UN development system, to working with communities and government to combat child marriage and female genital mutilation (FGM).
Having recently joined UNFPA, what are your priorities to create a world where the health and rights of every woman and girl are protected?
I have collaborated with UNFPA on many occasions over the
years and, during my time working for the Danish government, I worked
extensively to promote the rights of women and girls, particularly in the areas
of sexual and reproductive health and rights.
At UNFPA, we have a double mandate: a rights-based mandate
for advocacy work to promote the rights of women and girls when it comes to
their sexual and reproductive health and rights, and the realisation of the ICPD Plan of Action, first adopted at the ICPD in Cairo in 1994; and an operational mandate by which we're working with governments and civil
society organisations to provide health services, training and information to
women and girls all over the world.
The ICPD Plan of Action is a top priority, but it is no
secret that there has been political pushback. To respond to this, we have to
leverage data to explain what the agenda actually means for the livelihood of
individual women and girls. We also need to get the youth – both men and women
– much more engaged in the agenda. At last year's Women Deliver
Conference in Vancouver, I heard a young woman from Kenya pointing out that the ICPD
Plan of Action was important to her as it sets out the rights of her and her
peers to receive an education – even if one of them becomes pregnant – and it
aims to provide access to knowledge on sexual and reproductive health. For her,
these objectives will help her to pursue her goals of getting an education and
starting her own company.
We need to reach out to more young people like this, and have
them explain to us and to the rest of the world what the ICPD agenda actually
means for their lives and why it is still necessary. We must also remind
Member States of the United Nations – all of whom have signed up to the
Sustainable Development Goals – that you cannot reach these goals without
achieving the objectives of the ICPD agenda, and the opportunities for women
and girls that it encompasses.
UNFPA is the lead agency in the UN system supporting
governments with technical and financial resources to conduct the World Population and Housing Census Programme – why is census data
so crucial for the development of fragile states, and for women's rights in
particular?
Census data is important for all UN member states. If you want to pursue the most effective population, education or health policies, you need to know what the population is and how it is distributed in a country. You also need to have sex-disaggregated data to reach those who require sex-specific services, and to effectively advise governments on how they can invest in health and ensure the rights of women and girls. However, many developing countries – in particular the most fragile, poor or conflict-affected states – lack the capacity to carry out an effective census, so this is where the UNFPA's most important work in this area lies.
In 2016, UNFPA and UNICEF launched an ambitious partnership
with a global programme to end child marriage. Today, 40% of girls
in the least developed countries are forced into early marriages before their
eighteenth birthdays, with the destabilising effects of the COVID-19 pandemic
expected to exacerbate the factors that drive child marriage. An estimated 13
million additional child marriages could take place globally as a result. How
can UNFPA work to end this harmful practice?
I see the role of UNFPA in providing guidance and advice to
governments on legislation and how to enact it. Then I think it is important to
get out in the local areas and hear the points of view on the ground – to
understand what is actually happening and why, and the potential alternatives.
It's also important to improve the livelihoods of families with small children,
and improve education – providing education for girls and young women is the
best way to ensure their rights. It enables them to make decisions for
themselves and later on be informed about their reproductive health.
Working in this way – from the community to the government level – is also vital for combatting one of the greatest challenges in women's and girls' health – FGM. Our statistics show that around 200 million girls alive today have undergone some form of FGM. It is a violation of human rights, of the health of women and girls, and also of medical ethics where doctors are involved. It is so important that decision makers hear the voices of those who are affected by it.
You need to get commitment at the top – for instance, when President Kenyatta of Kenya made a strong commitment at the Nairobi Summit to end FGM during his presidency. But, as with child marriage, we also know that this is very much about tradition and mindsets, and you need to reach out at the local level – to mothers, fathers, young men, and local chiefs or religious leaders. It's complicated to work at all these different levels, but that's why it's so important when leaders like the First Lady of Burkina Faso (Sika Bella Kaboré) are working on this – they can facilitate the engagement of local leaders as well, and that's when you can really start to create change.
Discriminatory laws that restrict women's access to property
rights, credit and labour markets, and that limit their labour force
participation exacerbate their dependence upon a male earner. What actions can
governments and international organisations such as the UNFPA take to help
secure rural women's economic rights?
Gender-responsive budgeting is a good starting point, and that should go for all member states. That's why it's important for an organisation like UNFPA to not only talk to ministers of health but also ministers of finance. I have worked in this business for many years and, around 1990, I worked as an assistant to the Nordic member of the executive board of the World Bank. There is an important ministerial committee which meets twice a year and sets policy direction for development financing. It's a joint committee between the IMF and the World Bank, and normally consists of finance ministers from these countries. We worked a lot from the Nordic side with progressive people in the World Bank to put gender equality – what we called 'Women in Development' – on the agenda of the development committee. We were told 'No, these are finance ministers. Why should they sit and talk about that?'. But progressive people kept on working from all member states and now it's a very natural thing.
In fact, a couple of years ago, the IMF launched an interesting strategy for gender-responsive budgeting. So it's important to know where the actors are who can actually change things, and it's not always your usual playmates. Ministers of finance are powerful in any government, and if you can start by working with them to ensure that all stakeholders are forced to establish and work on gender-responsive policies, then they can see how women's needs may differ from what is normally done. Mobilise civil society as well in this respect.
The 1994 ICPD set a target to reduce maternal mortality by
75%. A 40% reduction has been achieved to date. How can the international
community continue to improve access to quality healthcare services for mothers
and newborns, particularly in humanitarian and fragile settings (where about
60% of preventable maternal deaths take place)?
The big challenge in conflict-affected areas is that it
becomes even more difficult to mobilise resources. We need to improve the
humanitarian-development-peace nexus by improving collaboration between
different international organisations – this is vital for providing acute
humanitarian assistance, such as food or medical services.
As Denmark's Ambassador to the UN in 2018, I worked with the Algerian Ambassador at the time, Sabri Boukadoum (now Minister of Foreign Affairs of Algeria), to lead the negotiations on reform of the UN Development System, where we created the new resident coordinator position, and a new vision for a much more integrated and holistic UN response. For instance, collaboration between UNFPA, UNICEF and the WFP could mean that when women in refugee camps go to pick up their food aid, they also have the opportunity to get advice on family planning. These possibilities exist and a lot is already being done – in 2015, in the Zaatari refugee camp in Jordan, I saw impressive cooperation between UNFPA and UN Women to provide integrated services for women.
In 2017, the Trump administration withdrew US funding from
UNFPA, impeding its work providing sexual and reproductive health services, including
family planning, to women and girls around the world. What is your strategy to
unlock funding for improving women's and girls' health?
Over the past two years, and supported by
a coalition of governments and organisations such as the SheDecides movement,
UNFPA has worked to ensure that the withdrawal of the US contribution to UNFPA
was compensated with increased contribution from other nations and donors. They
succeeded, and it was a marvellous job done. We should continue these efforts but
it's going to be difficult to uphold because of the continued political
pressure and the COVID-19 pandemic, which is going to reduce aid budgets in
many countries. We will need to have a strong dialogue with Member States to
make sure that areas of women's health and reproductive and rights are not neglected.
Syed Shoaib Hasan Rizvi (MPP 2018) is an alumnus of the Blavatnik School of Government, University of Oxford. He is the founder of I Am An Entrepreneur, a not-for-profit organisation that provides skills training, microloans and mentorship to women in Pakistan who have the passion to start their own ventures but lack resources.