The Armenian 'Velvet Revolution': a peaceful transition along the thorny path to democracy
Estimated reading time: 4 Minutes
Image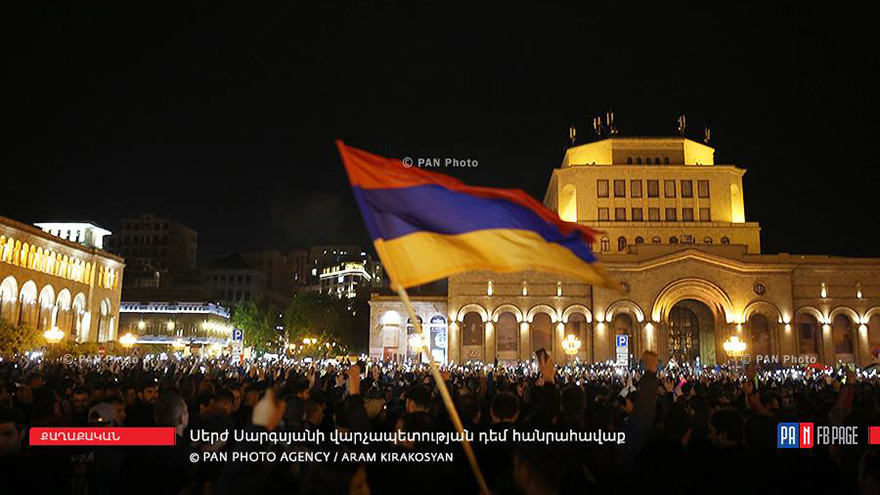 April 23th 2018 marked an incredibly important milestone in the history of Armenia and perhaps in the history of the whole post-Soviet space. After 11 days of peaceful protests demanding the resignation of newly elected prime minister Serzh Sargsyan, he resigned, wishing peace and harmony to the Armenian nation.
[caption id="attachment_8968" align="alignnone" width="880"]
Photo: Aram Kirakosyan. Image acquired with photographer's permission.[/caption]
It is remarkable how a small Caucasian state demonstrated to the world the possibility of bringing change without bloodshed and violence, even in the atmosphere of acute discontent with the ruling elite.
Sargsyan has been in power for 10 years, with two consecutive terms of presidency. During these years, Armenia became a state with "
extractive" institutions
, which have deepened the gap between the small group of those affiliated with the power and the rest of the population. Exacerbating poverty, feelings of social injustice and exclusion among the Armenians have triggered massive emigration. By the end of the second term, Sargsyan initiated constitutional changes, transforming Armenia into a parliamentary republic. While proclaiming initially that he would not run for the position of prime minister, Sargsyan nonetheless was nominated and elected by his own party (the Republican party which is part of the ruling coalition), despite disagreement expressed by the growing number of people. Clearly, the citizens of Armenia were not happy with that and reacted with a strong backlash.
While assessing the events in Armenia, the international community immediately attempted to draw an analogy with other protest movements across former communist states, trying to fit the Armenian protests into a single pattern. Yet, the Armenian "Velvet Revolution" is different. The protests in Armenia were not organised over any foreign or domestic policy agenda, neither over any political ideology or geopolitical issue. Deeply grassroots, self-organised and self-focused, it has been carried forward by the youth, most of whom are barely in their 20s. This so-called 'independence generation', born in turbulent years following the collapse of the Soviets, has taken the initiative and inspired more senior citizens to believe that united, people have the power to make their voice heard.
The leader of the protests, MP Nikol Pashinyan, is the only representative of formal political establishment in this movement. Yet, it is important to distinguish that these are not simply opposition-led protests. In fact, Pashinyan is a member of "Yelq" (Way Out) faction that holds a negligible nine seats out of 131 in the parliament. Furthermore, other members of that faction, although remaining highly critical of the ruling regime, did not join the street protests led by Pashinyan. Rather, he has been surrounded by 'new' faces, mostly young, educated citizens, who do not represent any formal political force. Thus, we witness a truly national movement of responsible and demanding citizens, exercising their right to civil disobedience in a peaceful way.
The Velvet Revolution has marked a crucial shift within Armenian society. This movement showed that despite seeming apathy and desperate talks that nothing can be changed, the political culture in Armenia has experienced critical transformations. An important factor is a strenuous process of developing a functioning civil society. Here, again, the credits should go to the younger generation, many of whom have been involved in civic activism. In recent years, self-organised movements have emerged on a range of issues - from environment to social policies. Regardless of the roots and outcomes of each of these movements, the crucial added value along the process has become the crystallisation of citizen's capacity and confidence to voice their discontent and demands (something that was  severely persecuted during the Soviet past). On the other hand the ruling elite had been forced to face at least some restrains to its power.
Among the key takeaways of the Velvet Revolution in Armenia is the possibility of a change delivered peacefully. The main theme going through the whole communications strategy of the organisers has been the restraint of falling into violence, which could easily happen given the intensity of heated emotions boiling up on the streets. Policemen, who by definition have a duty to keep public order and who are part of the government machine, had been declared by protesters as their friends. The leaders of the movement had been constantly emphasising the importance of treating policemen with respect and refraining from any provocation that could trigger back the use of force. There were also constant calls to those in power to avoid the temptation of using force against demonstrators, as the nonviolent and lawful nature of their actions would make the use of violence asymmetric and unjustified.
Remarkably, the idea of turning against each other is in some sense a red line among Armenians, a nation that survived the dreadful events of the Genocide of 1915. Armenia is in a complex geopolitical situation, and perhaps Armenians sub-consciously feel that staying united is the only option to move forward. Certainly, there are also more tangible lessons learnt after events of 1
st
of March 2008, when innocent people lost their lives in the clashes over the election of Serzh Sargsyan. These events became a shock for the Armenian society, which until today demands accountability for what happened.
Additionally, as stated by Nikol Pashinyan during his
press-conference for foreign media
last week, there was no alternative but accepting the demands of the people, expressed by the overwhelming majority of the population.
Undoubtedly, there is a thorny path ahead. "Extractive" institutions, a culture of nepotism and corruption, and tightly intertwined business and political interests are challenges that need to be addressed. The economy of Armenia is highly monopolised, with oligarchs placed across the whole spectrum of public agencies. Building inclusive political and economic institutions will require a painstaking process of changing focal actors and replacing existing narratives. It will take great perseverance and hard work to dismantle a deeply entrenched system. While Nikol Pashinyan appears to be truly committed to building a country based on the rule of law, he will need to cement his popular power with a legitimate process in parliament. The roadmap suggested by Pashinyan calls to form a transitional government, where he will take on temporary responsibilities of prime-minister as a 'people's candidate' and then urgently call snap parliamentary elections. What comes next is an uneasy stage of post-revolution process that will require new efforts such as winning elections, forming a new cabinet and leading the country forward.
Yet, one thing is certain. Whoever will come to power after April 23rd, will always face the fact that people in Armenia now are certain of their power and ability to unite and fight for their rights, self-respect and freedom.
Marina Aramyan is an alumna of the Blavatnik School of Government (MPP Class of 2016).