Admissions update: a new beginning
Estimated reading time: 4 Minutes
Image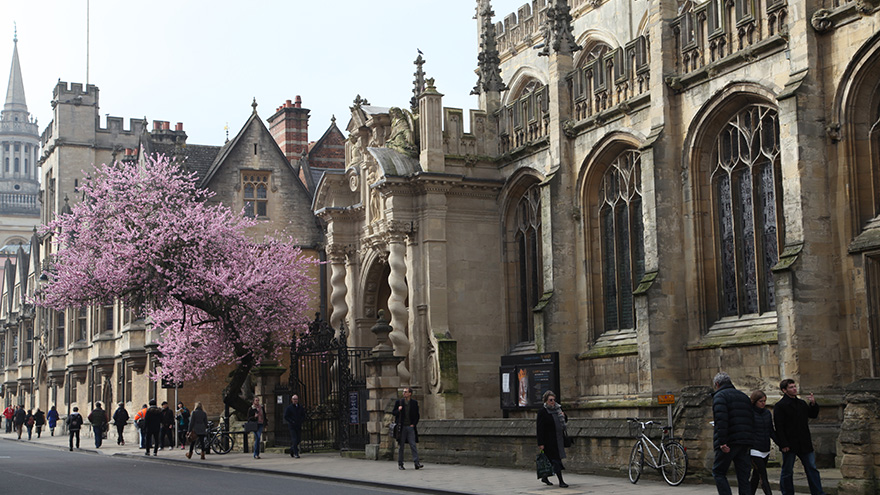 Spring is the season of new beginnings. The trees are in bloom, the birds are singing and Oxford is looking more beautiful by the day. At BSG, spring coincides with the end of another admissions cycle, which means another kind of new beginning: we've had the first glimpse on our new class of MPP students, the first to study in
our new building
.
With over 600 applications – 14% increase on last year – this was the biggest application pool we've experienced so far. Applications came from over 100 countries and territories, including places as far apart as Burkina Faso and Cambodia, showing also an amazing array of backgrounds.
[caption id="attachment_7736" align="alignnone" width="880"]
A view of Oxford's high street in spring[/caption]
I've talked to Casper in our Admissions team to find out more about what happened in the last few weeks and to get an idea of what's coming up.
The assessment process for all MPP applications is known to be very rigorous. Could you tell us a bit more about it?
That's correct, our priority is to ensure that the assessment process is as thorough and comprehensive as possible. Initially, all applications are screened by a committee involving several academic and administrative members of staff. In those cases where a second assessment is required, we ask different academics to help with the assessment work.
After this initial phase, we compile a shortlist of applicants to interview that covers a representative sample of applications. Because of the high number of applications, this year we didn't interview everyone meriting an offer, but just a smaller selection.
Based on the whole assessment process, we then draw a final 'offer' list – an extremely difficult task this year, as all the assessors were seriously impressed by the quality of applications.
With so many eligible applicants, coming to a final decision must have been hard. How did you do it?
We've had to turn down qualified applicants as we simply do not have space to accept everyone – the MPP course is designed for a maximum of 120 students each year. Many applicants met our basic entry criteria, so the final selection was drawn from what experiences each person would be able to bring to the class. At BSG some of the most transformative learning occurs between classmates and that's why we place huge importance on having as many unique experiences as possible.
What's going to happen now to the successful applications?
Well, the first step after offers have been made is receiving acceptance! We pass the successful applications to the colleges for consideration, as every student at the University of Oxford becomes also member of a college. The colleges' selection process is run completely independently from us, but all applicants are guaranteed a college place (although not necessarily accommodation). Applicants will be contacted directly by their college with further details – but we know this can take many weeks. There is a very good
overview of this process on the BSG website
.
What about funding? Is that a totally separate process?
It is indeed. Successful applications are passed on for consideration to relevant funding bodies, which again in most cases run their selection process independently from BSG. We strongly recommend that successful applicants who need financial assistance keep looking for funding – there's
a very good blog post on the topic of funding
that's definitely worth your time.
Do you have a message for those applicants who were unsuccessful this year?
We regret not being able to accept everyone who's well qualified to attend – but the good news is that BSG is not going anywhere! First of all, remember that each cycle is a completely fresh start and we do not transfer any records from one year to the next. You might not have been successful this year, but next year you will have even more experience under your belt, and your application will be more competitive. Secondly, it's worth remembering that the MPP programme can add value at any stage in your career – the students' age in the current class spans from 21 to 41 years, so there is no such thing as the 'perfect age'.
So people are encouraged to apply again – can you share any practical tips for those seeking another chance?
Admissions will open again for next year in September, so keep an eye on
our website,
 as well as on our 
Facebook
and
Twitter
. If you have been unsuccessful this year and would like to apply again next year, I would encourage you to think carefully about the MPP selection criteria. What experiences do you have that might complement them in a unique way? Then make sure you spend the next few months deepening these experiences to make your application as strong as it can possibly be. 
Finally, I – and all at BSG – would like to thank each and every one of you who have applied to come and study with us in Oxford. While we hope that if you have not been successful you will give it another go next year, we are also excited to meet those of you who will become the MPP Class of 2015. This is going to be a very important year for BSG – it will see us moving into the new building and welcoming the first full-capacity 120-students MPP class. So… bring on September!