The Admissions End Is Nigh
Estimated reading time: 2 Minutes
Image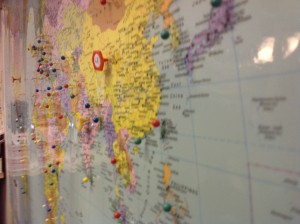 The admissions process of the school is nearing the final stages. It truly has been a tough and lengthy process; involving some long days for my colleagues and I. After the two initial assessment rounds the top candidates were identified and many were invited to interview. All together more than 100 interviews were conducted over Skype so as to ensure as equal treatment as possible for our candidates regardless of geographical location. With candidates from over 45 countries it was exhilarating crossing time zones and national boundaries to meet so many of you on Skype!
Final decisions have now been made but the size and quality of our admissions field has meant that we have been faced with some tough choices. All applicants have been sent an email from us with an outcome. We have been extremely impressed by many candidates and wish those we were unable to offer a place the very best of luck in their future studies.
The size of the application field also means that we unfortunately are unable to offer individual feedback to unsuccessful candidates. We would however encourage you to keep yourself updated with our selections criteria and to work on an even stronger application for next year. Each admissions cycle is a separate cycle and each application will be looked at afresh.
Successful applications are currently being placed in colleges. Each college has a separate admission office and candidates will therefore receive an offer letter from their college when a decision has been made.
Similarly funding decisions are also currently in the midst of being finalized. Many scholarships are university wide or administered by separate organizations with their own individual deadlines; these decisions will be communicated directly to the candidates independently of us and in most cases not until the end of April.
So although many of you are understandably curious, for the time being I would ask you to be patient; decisions will be communicated as soon as they are known. We are as eager as you are to find out who will be in the class of 2013/14 and to start the final preparations for next year!