Working at the interface of science and policy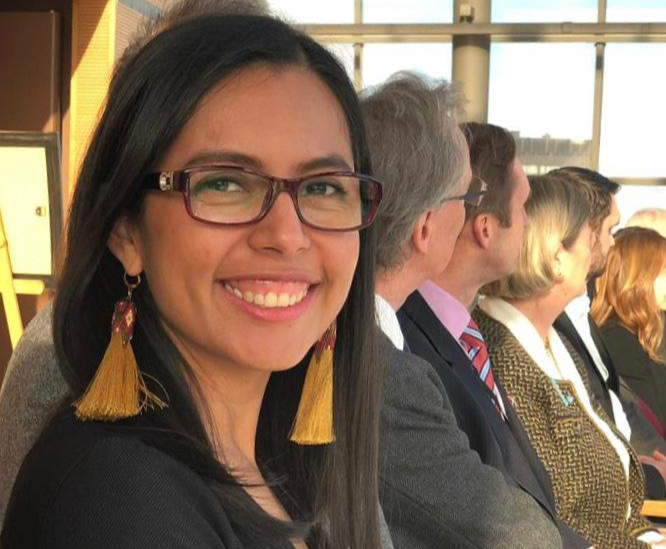 For Liliana Estrada Galindo (MPP 2015), an industrial engineer working in the public sphere, the Master of Public Policy at the Blavatnik School was an opportunity to take her career to the next level. "To be a good public servant, you need to keep learning. I wanted formal training to make sure I kept growing." Before the MPP, she held a master's degree from the University of Cambridge and a variety of jobs with a focus on science, technology and innovation, working for the Mexican Academy of Engineering, the Mexican Council of Science and Technology, the Organisation for Economic Cooperation and Development and the Mexican Space Agency, among others.
With her engineering background, the inclusion of science in the MPP's curriculum was a big draw for her, and she relished the chance to work in an international environment during the summer project, a six-to-eight-week placement in an organisation based in the UK or anywhere in the world. For her summer project, Liliana carried out research at the World Economic Forum, looking at how different government structures play a role in solving complex problems such as climate change.
"It was really exciting to apply what I'd learnt on the course and have access to the expertise at WEF."
Completing the MPP gave her the confidence to pursue a new career direction, and she currently works as Director of the Office of Science and Technology Information for the Mexican Congress at the Scientific and Technological Advisory Forum. The Forum's role is to advise the Mexican government on science and technology, and so this position brings together her scientific and public policy backgrounds. "It's my dream job – if you want to work on scientific policy, it's the place to be. We provide scientific evidence for policymakers in the Mexican Congress, so they can create informed policy and legislation." For this, the MPP module on evidence in public policy has been invaluable.
"It's essential to understand the usefulness of different 'evidence', and we learned to analyse, asses and use evidence for public policy at the Blavatnik School."
Liliana's team of ten carries out research and translates highly complex scientific topics into accessible and comprehensive summaries that are accessible to non-experts; the Members of Congress have very different academic backgrounds and are unlikely to have experience of every topic they have to decide on. The 4000-word briefs provide a comprehensive overview of each scientific area up for debate in Congress, including the social impact and economic considerations, as well as global benchmarks. When policymakers have these foundations, they can make more informed decisions and create policy that is impactful and rooted in scientific fact. The work spans a huge range of topics from energy and climate change to fintech and gene editing, and the team collaborates with similar offices in Europe.
While breaking down such specialised information is challenging, the most difficult task can be ensuring that the information is put into practice by policymakers.
"It's not just a question of generating information; we have to make sure Congress pays attention to what we give them. We're the link between science and policymaking, so we need to understand and communicate with two distinct worlds. The MPP gave me the skills and knowledge to bridge that gap."
Liliana was a Chevening Scholar. 
March 2019