Working on foreign relations and citizens' wellbeing in the Ukrainian parliament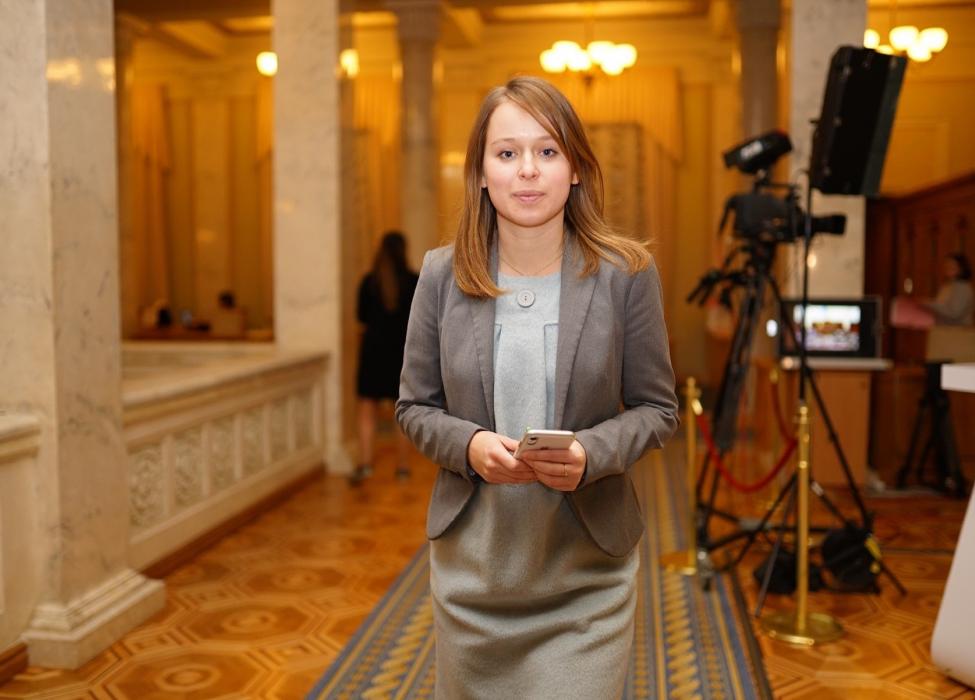 Lisa Yasko (MPP 2016) came to the Blavatnik School with a desire to learn how to improve life for Ukraine's citizens. Now an elected Member of Parliament, she credits the Master of Public Policy (MPP) with giving her the tools to collaborate across divides within a challenging and rapidly changing political context.
"I cannot think of anything that would have better prepared me for the challenges of a career in politics than studying the MPP at Oxford."
Prior to the MPP, Lisa had worked in strategic communications on various campaigns at the nexus of politics, history and culture. In 2016, she directed the Witness Babyn Yar campaign, a music and video installation commemorating the 75th anniversary of the Babyn Yar massacre during World War II, which sought to provoke discussion on how to apply lessons from the Holocaust in the present day. Witnessing the onset of war and increasing political instability in Ukraine from 2014, she became interested in gaining a global perspective on how to address her country's challenges. "The multidisciplinary approach and international focus of the MPP made coming to Oxford a priority for me," she says.
Lisa had an academic background in political sciences; learning from world-class faculty and leading practitioners on the MPP allowed her to both build on and challenge her existing knowledge.
"The MPP taught me different approaches to things I thought I already knew, and it gave me the tools and understanding to bridge theory and practice."
Lisa spent her summer project at the UK government's Department for Digital, Culture, Media and Sport, undertaking research on improving access to arts education for disadvantaged communities. "It was interesting to study in the UK because of its cultural politics, and the creative industry infrastructure that has developed over the years," Lisa says. "My summer project reinforced my understanding of the link between a strong cultural creative industry and societal wellbeing." Lisa's desire to draw attention to improving public wellbeing has continued in her current work as an MP; she has started an informal parliamentary group, Happy Ukraine, which aims to develop and implement policies that will contribute to citizens' wellbeing. The group's first task is to address the evidence gap in this area; they are currently exploring opportunities for research to facilitate the development of evidence-based wellbeing initiatives.
Before becoming an MP, Lisa spent some time working as a documentary film producer. Her projects included a segment for a French and German documentary on the KGB, in which she examined the Ukrainian KGB archives and conducted interviews with dissidents and a former KGB officer; and a film about Crimean Tatars, a Turkic ethnic group indigenous to Crimea, for Al Jazeera. She met Volodymyr Zelensky, leader of Ukraine's Servant of the People Party and now President of Ukraine, while helping a French journalist create a reportage about him. "His desire to restore trust in government aligned with my own values, and I saw an opportunity to make a positive contribution to Ukrainian politics," she says.
After joining the Servant of the People Party, Lisa was elected as a Member of Parliament from the party list [Ukraine's voting system is mixed between a party list system and first past the post] in 2019. She highlights the international focus of the MPP and the institutional reputation of Oxford University as significant factors in her selection for the party list. During the election campaign, she also drew support from connections made during her time at the Blavatnik School. "My specialism was in foreign affairs, but that's not necessarily what the public want to talk about when you're out campaigning," she says.
"I reached out to a couple of classmates for advice and support, as I knew they understood the challenges of leadership and the implications of running for elected office."
Much of Lisa's day-to-day work remains focused on foreign affairs and interparliamentary cooperation. She is the youngest Head of the Ukrainian Delegation to the Parliamentary Assembly of the Council of Europe (PACE), leading a delegation of 24 members from different parties and seeking to strengthen the Ukrainian voice at PACE. Lisa draws on the skills she developed during the MPP to reach consensus and fairly represent the delegation's views.
"The negotiations simulations and applied policy modules are directly applicable to my current work – they taught me how to understand and work with diversity."
As a member of the Ukrainian parliament's Committee on Foreign Affairs and Inter-parliamentary Cooperation, Lisa also works with diplomats and ambassadors to improve Ukraine's international relations, and to enhance and reform inter-parliamentary cooperation. Motivated to find new avenues for international cooperation, she is currently committed to creating a white paper on Ukraine's foreign policy with African countries.
As she settles into the multiple aspects of her role, Lisa is dedicated to building a strong institutional memory for Ukraine's parliament. "By helping to strengthen Ukraine's institutions, I hope that I can make a lasting positive contribution towards political stability and prosperity in Ukraine."
August 2020