Driving digital development in Africa through Facebook's public policy arm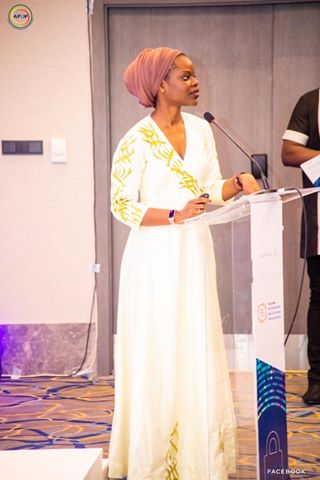 For Aïda Ndiaye, studying the Master of Public Policy at the Blavatnik School led to an unexpected career trajectory. She came to the MPP having trained as a development economist, planning to work in a government or consulting role. But following a summer project placement at Facebook, she seized the opportunity to continue working at the company in a full-time role. She had been working with Facebook's policy team to help them understand the Francophone African market, and wrote her summer project report on internet access in the region and the regulations that promote or inhibit access to the internet. Looking back, she sees her transition to the technology sector as a natural setting for her approach to work.
"I was always interested in the more practical side of development and thinking about innovative ways of solving problems. In the tech industry, innovation is the default mindset."
In her current role as Public Policy Lead (Sub-Saharan Africa) for Facebook, Aïda acts as a bridge between the private and public sectors, working on policy challenges such as internet safety, increasing internet access and combatting misinformation while maintaining freedom of speech. Aïda is based in London, but spends most of her time in the countries of her remit in west and central Africa. With such a dynamic role, no one day is the same for Aïda. "My work is primarily about engagement and external relations: I meet with ministers for information, communications and technology to address their concerns, help them understand our work and get government buy-in on Facebook projects."
With people increasingly using social media as a platform to raise concerns about public service issues, governments are beginning to better understand the importance of interacting with these platforms in a timely manner to identify and address these issues. Aïda's engagement work also extends to working with civil society organisations, NGOs and businesses; she recently developed a strategy for training 10,000 Small- and Medium-sized Enterprises across Francophone Africa, helping them understand the value and uses of technology.
During the Ebola outbreak in the Democratic Republic of Congo (DRC) in 2018, Aïda worked on issues related to misinformation and 'fake news' surrounding the disease. "For many people in the DRC, social media platforms like Facebook and WhatsApp are their first point of information. Misinformation around Ebola is a public health issue, as it has an impact on who seeks treatment and how long the outbreak lasts." This project led Aïda to cross paths with former classmate Fatou Wurie (MPP 2016). Fatou had been working on the U-Report tool, a social messaging tool and data collection system designed to facilitate citizen engagement on issues that affect them; Aïda, through Facebook, supported the use of U-Report for reporting Ebola cases in the DRC.
As an ambassador for Facebook in the public policy sphere, Aïda's role also often involves responding to criticism of the company, which she cites as a valuable part of her job: "Listening to criticism is a vital way for Facebook to improve and creates accountability." Acting as a bridge between the private and the public sectors requires an understanding of how to represent external voices – those of governments and other organisations – to those within the company; learning how to approach issues from multiple perspectives and consider the interests of various stakeholders was something that she learned during the MPP and finds particularly valuable in her professional life.
"In political economy and economics lectures, we examined power dynamics in various geopolitical contexts. Even working in the private sector, the core ideas and principles learned during the MPP are something I use in my day-to day work."
One of the biggest challenges that Aïda has to grapple with in her role is the regulation of 'big tech' companies: on the one hand, large technology companies must learn how to engage more meaningfully with governments, while on the other hand, governments are realising they have not played an active role in regulating the industry and are having to catch up. "Governments and tech companies have to learn to work together to balance policy and regulation, while pushing for innovation. To establish an effective two-way conversation, I need to be able to identify our common goals."
For Aïda, who has always had a particular interest in issues related to Africa's development, now is an exciting time to be working in the technology sector. "Particularly in the African context, there is a lack of understanding of the wide reach of Facebook's business model, and the extent to which it intersects with public policy issues," she says. Meanwhile, there is a strong sense that the fourth industrial revolution is going to be 'Africa's revolution':
"There is a lot of optimism across the continent that this is the moment to be driving the right programmes and devising the right policies. We want to create a win-win situation for private sector actors and governments, as well as for the people they serve."
Aïda maintains an active role within the Blavatnik School community, having worked alongside the Pathways for Prosperity Commission, which examined issues around digital governance and making technology work for all (the recently established Digital Pathways at Oxford is building upon the Commission's work). She also returned to the School to speak on a panel at the Challenges of Government Conference 2019.
In the near future, Aïda intends to continue working in the technology sector, and often turns to her former professors for advice and mentorship on career development.
"I owe so much to the MPP, and the ongoing support I've had as a part of the Blavatnik School community continues to guide me forward in my professional life."
Aïda was an Oxford-Poler Scholar
March 2020