Galvanising civil society organisations to drive government action on malnutrition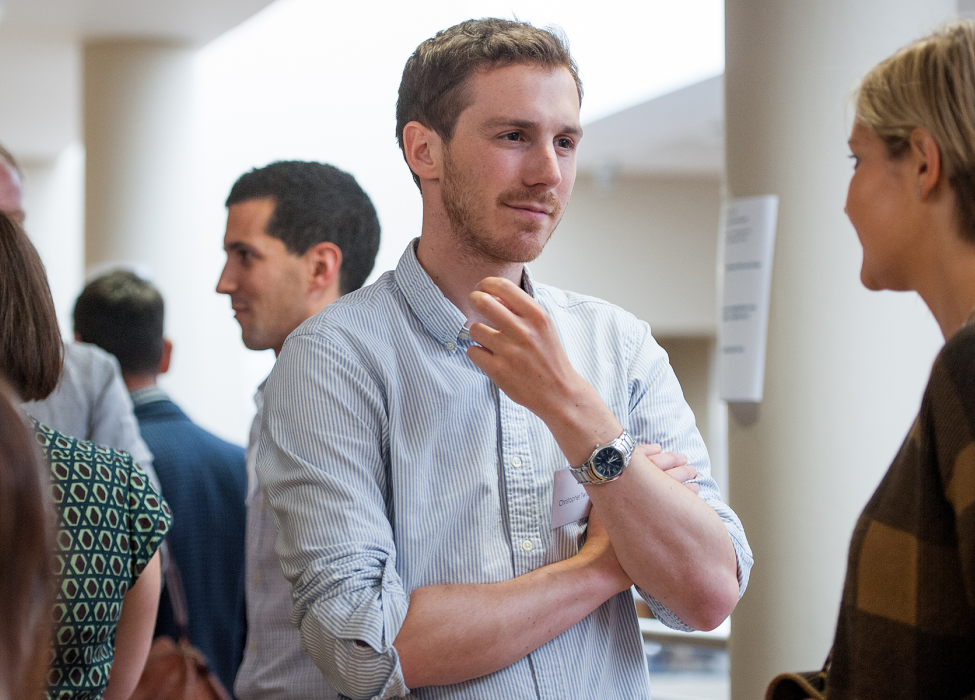 Christopher Twiss (MPP 2015) works with over 3,000 civil society organisations across the world to drive government action on malnutrition in 53 countries. As Head of the Civil Society Network at the Scaling Up Nutrition Movement (SUN CSN), Christopher and his team facilitate the work of the civil society organisations, and coordinate the national alliances and regional groups to which each organisation belongs. SUN CSN advocates change at the government level, pushing for policymaking and investment around health and nutrition, and holding governments to account on their commitments.
Christopher's interest in working on nutrition and development stems from his professional experience prior to the Master of Public Policy. Working at a commercial strategy consultancy, he took a one-year secondment to work in its in-house social enterprise. Projects around agriculture, food security and nutrition led Christopher to reflect on the role of nutrition in major development challenges, from humanitarian assistance and health systems, to education and economic development:
"A lot of the most significant global challenges can be better addressed by focusing on human development and, in particular, the first 1,000 days of life."
Keen to turn his brief stint in the world of international development into a more permanent career change, Christopher began applying for jobs in the sector. "I was inhibited by two obstacles: my lack of relevant work experience and the policy gaps in my skillset. The MPP allowed me to address both of these issues." The one-year duration of the MPP aligned with Christopher's career plans and he came to Oxford with a clear sense of the value of the time he would spend on the course.
"Building up some work experience before starting the MPP gave me a more focused idea of what I wanted to extract from the experience."
The applied focus of the MPP was particularly valuable for Christopher as he sought to gain relevant professional experience. For his summer project, he worked with the government in Buenos Aires, Argentina on a citizens' development project, examining how to measure the impact of policies being implemented by local government. This gave him a deeper understanding of policymaking processes.
"My time on the MPP enabled me to become someone who can influence policy, as opposed to remaining an outside observer."
After graduation, Christopher worked as a World Bank consultant on an agriculture and food security project in Benin. He describes the project as a rewarding and enriching experience, which he was able to access thanks to his time at the Blavatnik School.
"The experiences I could draw on from the MPP, and particularly my summer project, were critical in my job application."
He then worked at Save the Children UK in nutrition policy and advocacy before moving to his current role. At SUN CSN, Christopher and his team work to provide a range of training and support for the organisations they work with, including budget analysis training to help the organisations monitor government spending on nutrition; governance advice to ensure the organisations can run efficiently and effectively; and advice on advocacy and best practice. The advocacy element of Christopher's work has gained increasing significance in light of the coronavirus pandemic: "We're helping organisations work together on key messaging to government and health officials, so they can demonstrate that nutrition is a core element of tackling COVID-19."
For Christopher, drawing the organisations together is the most inspirational part of his job: "We give them a platform to share their major successes and challenges, and enable them to build relationships that continue beyond the meetings we organise." This bottom-up approach is key to SUN CSN's ethos: "There are some core tenets of how to tackle malnutrition, but it's important that the change is driven from the local and national level by organisations who have a deep understanding of their local context."
Christopher finds himself regularly drawing on lessons from the MPP, in areas from policy evaluation to sustainable nutrition.
"Being at Oxford was transformational. The MPP gave me the tools for my day-to-day work, but it was also important from a personal growth perspective."
Maintaining contact with former classmates has also helped Christopher to gain different perspectives on his field of work: "I'm exposed to the third sector and development perspective every day in my job, so some of the most informative conversations I have are with former classmates working in completely different sectors."
Christopher envisions continuing to work in the global health and malnutrition domain for the foreseeable future: "The more time I spend working in this sector, the more I see how nutrition underpins a host of other challenges. The driving force for my career is understanding how I can have the biggest impact on bringing this issue to the forefront and driving sustainable change towards a world free from malnutrition."
April 2020