What makes a good personal statement?
The Personal Statement plays a key role when our Admissions Committee are considering your application file.
Estimated reading time: 4 Minutes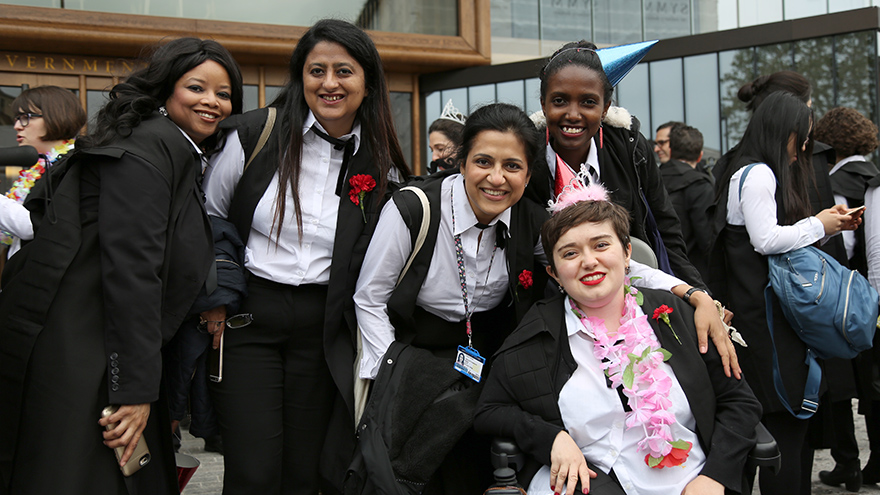 Updated September 2022
There is no right or wrong way to structure your statement, but you should think very carefully about its content. Your personal statement is the place for you to showcase your passion, commitment, achievements, and your potential. However, you only have 800 words so you must use them wisely!
If you are not used to writing personal statements, it can feel strange to "sell yourself" in this way. If so, you may find this blog helpful in giving you some ideas on how to approach this task.
Before you begin writing you should think about the criteria your application will be assessed on (you can find these on the Graduate Admissions page for each of our courses). Try to brainstorm some of your relevant skills, qualities, roles, or projects which demonstrate that you meet our entry requirements and selection criteria. Consider getting a friend or co-worker to come up with some ideas too, as they may highlight elements you had not considered. You could also try to imagine you are writing this on behalf of someone else – look at your experiences and achievements and think about how you would sell these if you were writing a reference for a colleague you rate highly
When it comes to writing your statement there are four key questions you should consider:
What are your achievements?
Don't just list your achievements or previous roles – this is what a CV is for.
Do expand on particular experiences you feel exemplify why you would be an ideal candidate for our programmes. Focus on the skills and qualities you have demonstrated, and how those connect to our selection criteria.
If you worked as part of a team, think about what your contribution was. Did you bring a fresh perspective to a recurring problem? Did you help your teammates identify and enhance their own skills and impact? Did you find small ways to increase the efficiency and impact of the team's work as a whole?
Don't just list the team's achievements as your own.
Do make it clear what your contributions and successes were.
Demonstrating your ability to lead and have impact does not necessarily mean pointing out leadership positions you have held.
For example, the above teamwork-based examples are all demonstrations of leadership qualities and skills that do not rely on assuming a traditional 'out-front' leadership position.
Remember that good leadership is shown in your interaction with others, not just the titles you have held. The best leaders are adept at enabling and empowering others to succeed! Sometimes the most impactful work is also the quieter work that takes place behind the scenes, facilitating the more visible contributions of others.
Don't just rely on having held traditional leadership roles.
Do think about leadership and impact more broadly.
How has this benefited others/served the public good?
We want to know what tangible impact you have had. This can be big or small. Perhaps your team was able to lobby for the passage of a bill that will have a key impact in your area, or perhaps your local volunteer initiative was able to provide much-needed support to a small but vulnerable community. The key point is that you show us that you are capable of being a committed and effective public servant, contributing to the good of your community.
Don't just list projects you have been involved in and assume the reader will understand the impact of your work.
Do be specific and explicit on the impact you have had.
There is a world of difference between telling us that you conducted fieldwork in an indigenous community, and telling us that you worked with local indigenous leaders to identify the factors having an impact on a specific issue, which then led to the development of a solution to this problem. We can't rate your file on the basis of information that isn't there, so make sure you explicitly talk about your projects and how they delivered positive change!
What do you aim to do in the future?
Don't just list the jobs you want to have.
Do explain what your future goals are and what positive impact you wish to bring in the future.
Joining our School should not be your end goal in itself. Our aim is to equip you with the skills you need to go back into the world and have an even greater impact!
Think about what your career goals are, not just the positions you wish to hold but the work you plan to do and the impact you aim to have.
What will we see in five years' time when we look at the achievements of our alumni?
How will studying with us enable you to achieve this?
Don't just list the modules or professors you want to engage with.
Do outline how being part of our community and studying with us will make your goals achievable.
What are the specific skills you want to gain? How will these enhance or complement your existing skillset? Most importantly, how will you utilise these skills to become more effective and more impactful in your work?
Our programmes are unique in their interdisciplinary scope, intensity, and international focus. We need to know why you think we are the right fit for you, as well as why you are the right fit for our community. How are you going to help us to further our vision of a world better led, better served, and better governed?
Focusing on these four areas will help you craft a statement that should tell us everything about you as a candidate, what you would bring to the School, and what the School will do for you.
If you would like to apply to one of our programmes and have not yet started your application, you can find all information about the courses themselves, entry requirements and selection criteria, and full instructions on how to apply on the Graduate Admissions pages for the MPP and MSc. Admissions for entry in September 2023 are currently open, and the deadline is Friday 6 January 2023 at noon (UK time). If you cannot find the answer to your question online, feel free to email the Admissions Team at admissions@bsg.ox.ac.uk.